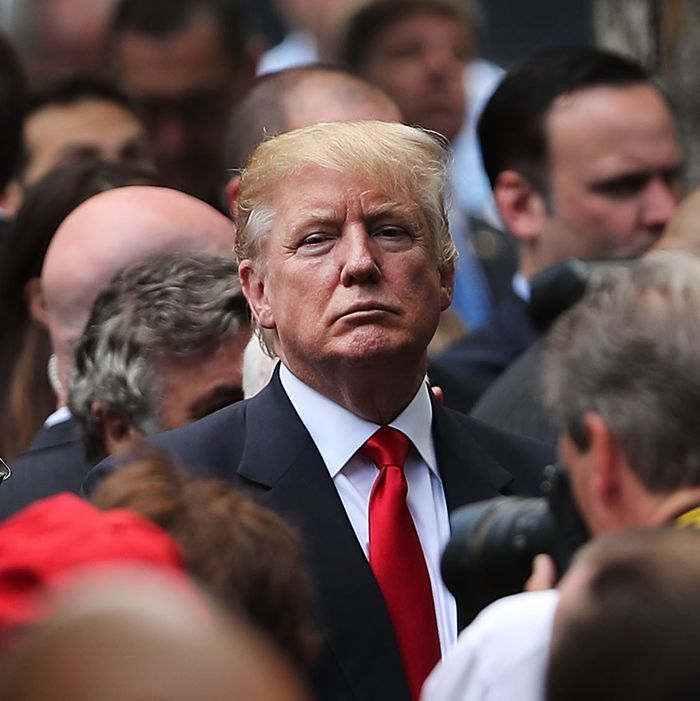 Trump at the National September 11 Memorial and Museum on Sunday.
Photo: Spencer Platt/Getty Images
To mark the 15th anniversary of 9/11, Donald Trump attended an event at the National September 11 Memorial, posted a long tribute on Facebook, and managed to refrain from tweeting anything offensive. On the day of the tragedy, Trump was less restrained, as revealed in a video clip unearthed this weekend. In a phone interview with WWOR on September 11, 2001, which Politico requested from the station, Trump notes that when the towers came down, he became the owner of the tallest building in lower Manhattan.
"Forty Wall Street actually was the second-tallest building in downtown Manhattan, and it was, actually, before the World Trade Center, was the tallest," Trump said. "And then when they built the World Trade Center, it became known as the second-tallest, and now it's the tallest."
Later in the ten-minute interview, Trump speculated that the planes were loaded with bombs.

Trump's claim that he saw "thousands and thousands" of Muslims celebrating in New Jersey after the attack was famously debunked during the primary, but a less widely known dubious 9/11 claim got some new attention on Sunday. The Daily News reported that while Trump has claimed he received a $150,000 federal grant as a thank you for his charitable efforts after the attacks, documents show that is untrue. The program was created to help local businesses affected by the attack, and records show Trump's company requested the money for "rent loss," "cleanup," and "repair."
That's not what Trump told Time about the money. "It was probably a reimbursement for the fact that I allowed people, for many months, to stay in the building (40 Wall St.), use the building and store things in the building," he said in April. "I was happy to do it, and to this day I am still being thanked for the many people I helped. The value of what I did was far greater than the money talked about, much of which was sent automatically to building owners in the area."
As recounted in the Politico piece, Hillary Clinton was at her home in Washington, D.C., when the plane hit the towers. The junior senator from New York headed toward the Capitol and picked up staff members who had been evacuated. That night she sang "God Bless America" with other lawmakers on the Capitol steps, then appeared on CNN. "We can't let these evil acts in any way deter us from making it clear that the United States is resolute," she said in the interview, "and we are going to support the president."