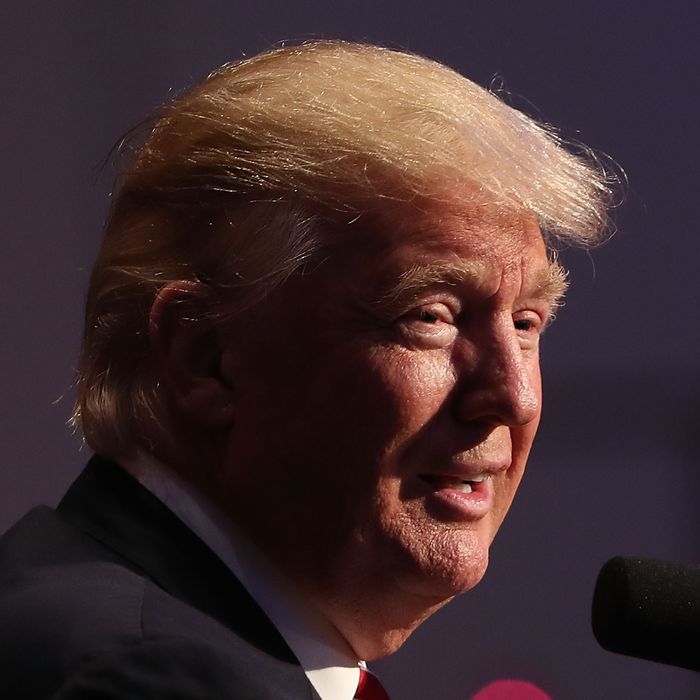 Photo: Spencer Platt/Getty Images
During Wednesday night's Commander-in-Chief Forum, Donald Trump heaped praise on Russian president Vladimir Putin, complimenting him for having "great control over his country," and saying he's "been a leader far more than our president has been a leader."
This left Democrats appalled and Republicans once again in the awkward position of disavowing Trump's remarks while standing by their candidate. "Vladimir Putin is an aggressor who does not share our interests," House Speaker Paul Ryan said on Thursday, adding that it "certainly appears that he is conducting state-sponsored cyberattacks on our political system."

Senator Lindsey Graham, who is no fan of his former primary opponent, summed up Putin's less-admirable attributes, quipping, "Other than destroying every instrument of democracy in his own country, having opposition people killed, dismembering neighbors through military force, and being the benefactor of the butcher of Damascus, he's a good guy."
Trump responded to the controversy by remaining true to his brand, which is to do basically the opposite of what any rational presidential candidate would do. So, after sending out his running mate to double down on his remarks about Putin, on Thursday night Trump did an interview with the state-funded Russian TV network RT.

Trump kicked off his wide-ranging phone conversation with American journalist Larry King, whose show Politicking airs weekly on RT America, by bashing the U.S. media for its "tremendous dishonesty." He was not referring to Matt Lauer's widely panned performance at Wednesday night's forum, but it is worth noting that King actually pressed his "good friend" of over 30 years on a number of issues, including his tax returns, his secret plan to defeat ISIS, and why he doesn't think Hillary Clinton looks presidential. Trump dodged each question, and the interview concluded with Trump going silent when asked how he feels about Mexican immigrants.

King had two questions about Putin. First, does Trump agree with Putin's recent comment that the hacking of the Democratic National Committee was a "public service"?
"I don't have any opinion on it. I don't know anything about it. I don't know who hacked. I'm not sure. You tell me. Who hacked? Who did the hacking? But I have absolutely no opinion on that." Trump said.
Second, what does he make of reports from U.S. intelligence agencies that Russia orchestrated a covert operation to disrupt the U.S. election?

"I think it's probably unlikely. I think maybe the Democrats are putting that out," Trump said. "I think it's pretty unlikely, but who knows? I hope that if they are doing something, I hope that somebody's going to be able to find out, so they can end it, because that would not be appropriate at all."
Apparently Trump's position has evolved since July, when he said during a press conference, "Russia, if you're listening, I hope you're able to find the 30,000 [Clinton] emails that are missing."

And there's some other encouraging news for those who were disturbed by Trump's embrace of Putin. Hope Hicks, Trump's spokeswoman, said after the interview aired that the campaign thought he was appearing on King's podcast. "Mr. Trump recorded a short interview with Larry King for his podcast as a favor to Mr. King," Hicks said. "What Larry King does with the interview content is up to him. We have nothing to do with it."
So rest assured that Trump wasn't purposely doing an interview on Russian-backed TV, his campaign is just incompetent.