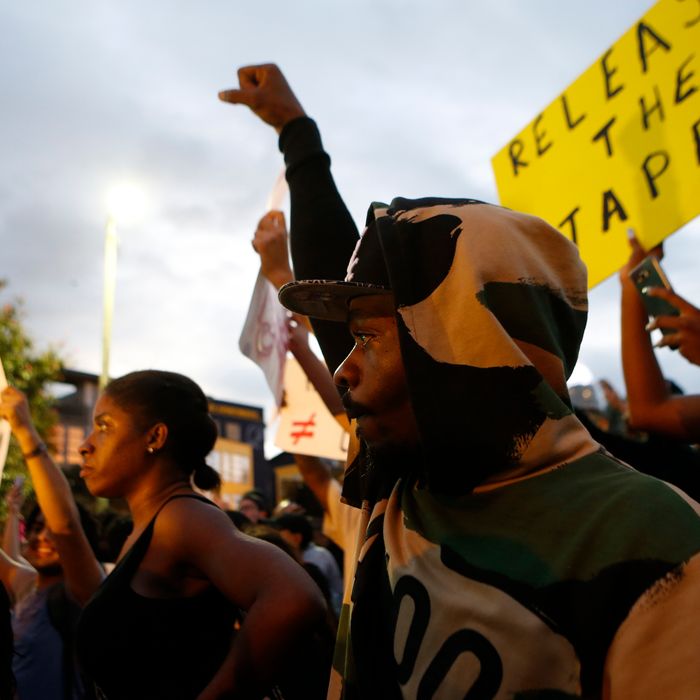 Protests raged in Charlotte for a second night.
Photo: Brian Blanco/Getty Images
Protests in response to the fatal police shooting of Keith Lamont Scott in Charlotte, North Carolina, became increasingly violent as they entered a second night.

The city of Charlotte has confirmed that one person was shot during the protest on Wednesday evening and is now on life support. Earlier, the city said the man had died.

Protests began on Tuesday after police shot and killed Scott, a 43-year-old black man and father of seven, who was sitting in his car outside an apartment complex near the University of North Carolina at Charlotte. Police claim Scott was brandishing a gun and posed an "imminent deadly threat" to officers, while witnesses say he was only holding a book while waiting to pick up his child from the school bus.

Initially the demonstrations were peaceful, but as the crowd grew larger and angrier on Tuesday police donned riot gear and fired tear gas and rubber bullets in an effort to disperse the crowd. Early on Wednesday morning demonstrators shut down traffic on Interstate 85. Some took boxes from tractor-trailers and set fire to them in the highway. There was also looting in a nearby Walmart.

Police said 16 officers were injured, including one who was hit in the face with a rock. At least 11 civilians were hospitalized and treated for life-threatening injuries.

The violence died down during the day on Wednesday. Hundreds turned out for a prayer vigil that morphed into a protest march through downtown Charlotte. But just after nightfall, protesters were once again clashing with police in riot gear.

Then came a report that one person had been shot. The injured man was transported to the Omni Hotel, and police confronted protesters again as they attempted to keep them from entering.
Police have not identified the victim. It's unclear whether he was taking part in the protests or who shot him.
Though some protestors accused police of shooting the man, the city of Charlotte tweeted that it was a "civilian on civilian" shooting. Officials say police did not fire any live ammunition — just several volleys of tear gas. They reported that one officer was slightly injured in the scuffle.
As the protests grew more chaotic CNN reporter Ed Lavandera was shoved and knocked down during a report.
The unrest has mostly been concentrated in Charlotte's high-end city center, where there have been many reports of looting and damaged property. The Hornets have confirmed that their team store has been looted and chairs were thrown through the window of the Ritz Carlton Hotel.
Windows and glass doors were also broken at a nearby Hyatt by protestors who, according to a hotel manager, punched two hotel employees who had been standing outside.
The windows of the Charlotte Observer's lobby were also shattered.
Some protestors expressed disappointment at the crowd's destructive behavior and called for peace.
Earlier in the night, the Scott's family did the same.
"As a family, we respect the rights of those who want to protest," Scott's wife, Rakeyia, wrote in a statement, "but we ask that people protest peacefully. Please do not hurt people or members of law enforcement, damage property, or take things that do not belong to you in the name of protesting."
North Carolina governor Pat McCrory has declared a state of emergency and deployed the National Guard and state highway patrol.
This post has been updated throughout.