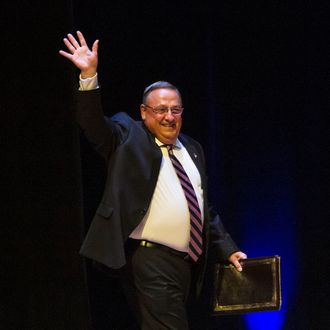 Photo: Sarah Rice/Getty Images
There is little ambiguity regarding Maine governor Paul LePage's opinion of people of color. He thinks they're the "enemy." The man who once blamed men with names such as "Smoothie, D-Money, and Shifty" for selling drugs and impregnating white girls in his state, said last month that "90-plus percent" of the people arrested for selling drugs in Maine are black or Latino. He even has the three-ring binder of news clippings and mugshots to prove it, he said.
Unfortunately for the governor, the Maine A.C.L.U. and media outlets in the state asked to see that binder. Turns out, of the 93 people pictured in the binder, 60 percent are white and the rest are black and Latino, according to the Portland Press Herald. LePage's office has tried to explain away his lie, saying that the governor's "90-plus percent" comment referred to people who were coming from out of state to sell opiates in Maine. But that claim isn't supported by what's in the binder, either.
One of these days, Republicans are going to learn to just stay away from binders altogether.