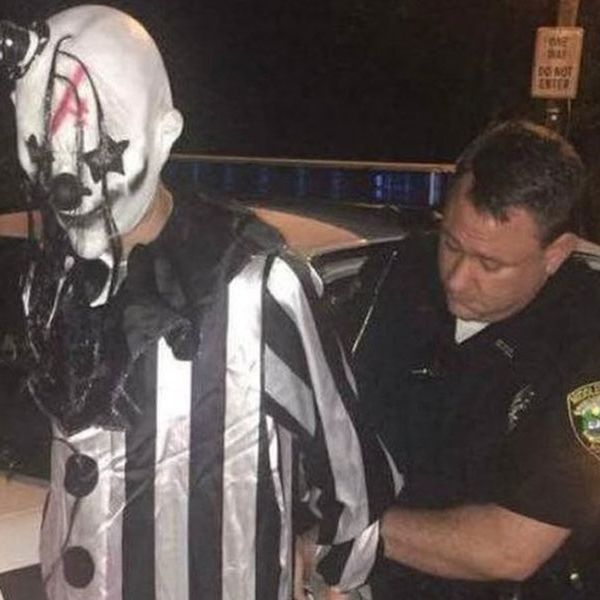 You have the right to remain silent.
Photo: Middlesboro Police Department
Kentucky resident Jonathan Martin was arrested early Friday for hiding in a ditch outside of an apartment complex at 1 a.m. and jumping out of the dark to frighten people. The 20-year-old was booked for disorderly conduct and for breaking the town of Middleboro's anti-mask ordinance. By the looks of this picture, from a local reporter, Martin did not find it a laughing matter.
Martin is the latest example of a new trend catching on with idiots around the country: grown men dressing up like a clowns and lurking in the shadows to scare the hell out of people who are just trying to make it through one more miserable day.
Reports of creepy clowns first emerged in Greenville, South Carolina, where a red-nosed creepo was reportedly trying to lure kids to a house in the woods by flashing wads of cash. Police looked into the claims and found nothing.
In Alabama, schools across the state ramped up security after reports emerged on social media that clowns were going to attack local high schools with guns. In Ohio, a sheriff's office is looking for two clowns and advising citizens to contact the department because, "[W]e are unsure what their intentions are at this point." And in Florida, a state where you might think clowns would be among the most normal roadside sightings, police keep getting calls about clowns but are having a hell of time finding them.
Most of the clown reports have been confined to the South, and most of the people dressed up in the costumes have escaped legal trouble. It is, after all, not illegal to be creepy — though, maybe it should be.