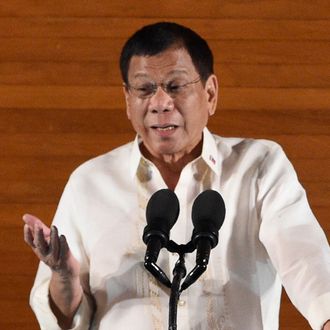 Rodrigo Duterte.
Photo: TED ALJIBE/AFP/Getty Images
Here's a tip to any world leaders itching to curse out President Obama face-to-face: Don't announce your plan in a televised address. President Obama called off a meeting with President Rodrigo Duterte of the Philippines scheduled for Tuesday in Laos after Duterte warned on Monday that he would put Obama in his place if he questioned him on human-rights violations.

Last week, White House officials said they expected Obama to raise concerns about the extrajudicial killings of 2,000 people as part of the Philippines' war on drugs. Duterte made a campaign promise to crack down on crime, and the killings by police and vigilantes have reportedly increased drastically since he took office in June.
Before heading to Laos for the summit of the Association of Southeast Asian Nations, Duterte cautioned Obama not to raise the issue. "You must be respectful," Duterte said, apparently addressing Obama. "Do not just throw questions." According to the Associated Press, he then used the Tagalog phrase for "son of a bitch" (or "son of a whore") saying, "Putang ina, I will swear at you in that forum."

"Clearly, he's a colorful guy," Obama responded. "What I've instructed my team to do is talk to their Philippine counterparts to find out is this in fact a time where we can have some constructive, productive conversations." Later, a National Security Council spokesperson said the meeting was off.

Hours later, the Philippines government released two statements that walked back Duterte's "strong comments." "He regrets that his remarks to the press have caused much controversy," it said. "He expressed his deep regard and affinity for President Obama and for the enduring partnership between our nations."

It's unclear if the meeting will be rescheduled, but Obama said earlier that he would "undoubtedly" address human-rights concerns "if and when" he meets with Duterte. Still, the U.S. is in an awkward position. While the U.S. is a key ally in the Philippines' territorial dispute with China over the South China Sea, Duterte has said he wants his country to be less reliant on the U.S. Nevertheless, the U.S. is moving ahead with plans to send troops back to the Philippines, which is part of the Obama administration's effort to rebalance resources to the Asia-Pacific region.
The U.S. isn't the only nation having issues with the Philippines' new leader — in fact, Duterte's attack on Obama is arguably his least-offensive use of the term "putang ina." He's previously called U.S. Ambassador Philip Goldberg a "gay son of a whore," and applied the same insult to an Australian missionary who was gang-raped and killed, and Pope Francis.

This post has been updated to include the Philippines' statement of regret.