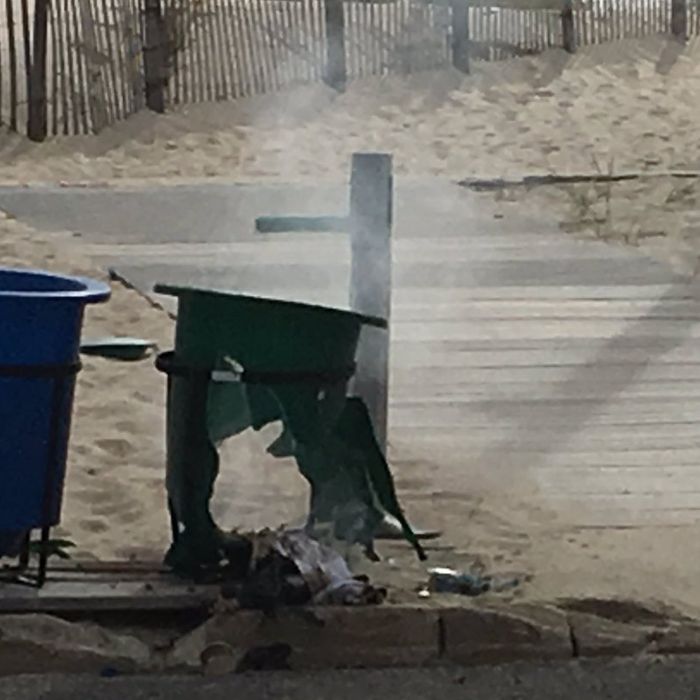 The garbage can where the bomb was placed.
Photo: Kathy Madsen/Twitter
An explosive pipe-bomb-style device blew up a garbage can in Seaside Park, New Jersey, on Saturday morning, just before thousands of people were set to pass by for a U.S. Marine charity road run, according to the Philadelphia Inquirer. No one was injured by the explosion, which occurred at 9:35 a.m. along the route of the Marine Semper Fi 5K, which had been scheduled to start at 9 a.m. but was delayed because of late sign-ups. The run was canceled on account of the explosion. ABC News reports that authorities believe the runners were the target of the bomb, but there is no suspect or known motive as of Sunday morning. There is also no known connection to the explosion that injured 29 people in Manhattan's Chelsea neighborhood on Saturday night, or the stabbing attack at a Minnesota shopping mall, also on Saturday night.
The bomb was actually comprised of three devices, detonated with a timer, but only the main component exploded. The other two were found wired together in the trash can. Authorities say that the device was designed to be powerful enough that it could have caused serious injuries. Luckily, no one was nearby thanks to the delayed start of the run. Al Della Fave, a spokesperson for the Ocean County's Prosecutor's Office, surmised on Saturday that whoever planted the bomb was "someone who has a beef with the Marines."
A four-block area near the scene was evacuated after the explosion, and Seaside Park was locked down for a time while the area was investigated. Residents were allowed to return to their homes around 6 p.m. Saturday, and officials do not believe there is any additional threat to the town, and no additional devices were found.
Multiple federal and state law enforcement agencies, including the FBI's Joint Terrorism Task Force, have joined the investigation, which the FBI is now leading.
This is a developing story, and this post was updated to reflect additional details released by authorities.