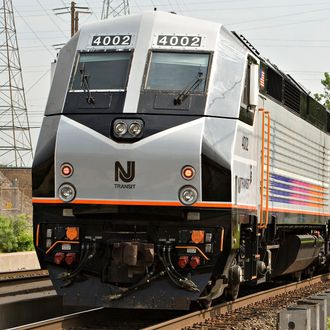 All train service through Elizabeth has been suspended.
Photo: DANIEL ACKER/Bloomberg via Getty Images
One of five devices discovered near the Elizabeth, New Jersey, transit station exploded early on Monday morning as police were attempting to disarm it, raising fears that the explosions in Manhattan and Seaside Park, New Jersey, on Saturday were part of a larger terror threat.

Elizabeth Mayor Christian Bollwage said two scavengers found a backpack in a garbage can at the station around 8:30 p.m. on Sunday at Julian Place and North Broad Street. The men dropped it when they noticed "wires and a pipe" and went to a local police station to report it.

The county bomb squad examined the backpack with a drone and determined it "could be a live bomb." Following an explosion at 12:30 a.m., Mayor Bollwage said one of five devices found inside the backpack exploded as it was being disarmed by a robot. There were no injuries, but the mayor said to expect more explosions.

All New Jersey Transit service along the Northeast Corridor and New Jersey Coast lines has been suspended. An Amtrak spokesman told the Times that trains were moved to stations to let passengers disembark and service will resume "as soon as it is safe to do so."
"This could take more hours than we thought initially" Bollwage said. "I'm not sure if the morning commute will be easy.
This post will be updated as more information becomes available.