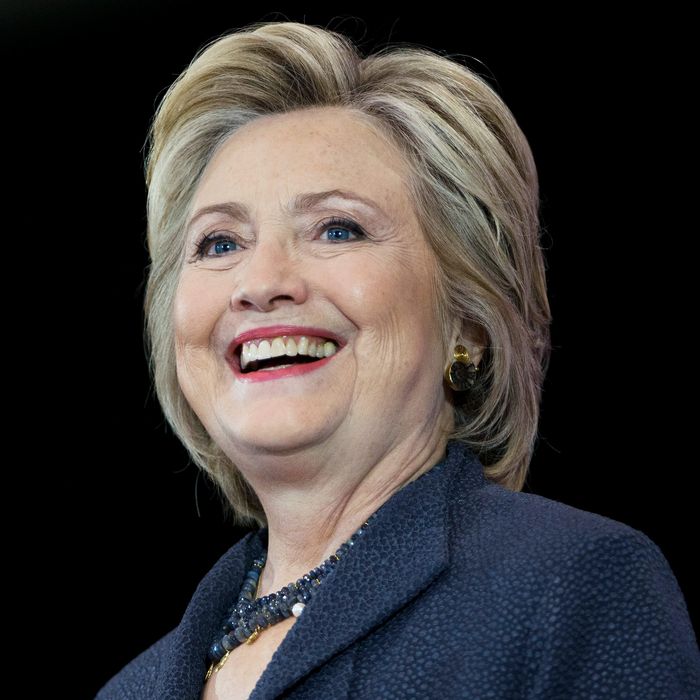 Wellness.
Photo: Leigh Vogel/Getty Images
A little over a week ago, Hillary Clinton stumbled out of a 9/11 memorial service and into the most unflattering piece of video footage in (short-term) political memory. Over the ensuing days, a series of polls showed the Democratic nominee's lead over Donald Trump shrinking, or even disappearing entirely. Visions of a violently ill Clinton staggering her way to the finish line — lending credence to her rival's accusations of weakness with every wheezing intake of breath — sent chills down the spine of blue America.
But by the end of last week, Clinton returned to the trail, her pneumonia inconspicuous. And on Tuesday, the NBC News/SurveyMonkey weekly tracking poll shows her recovering a five-point lead over the GOP nominee in a four-way race that includes Libertarian Gary Johnson and Green Party nominee Jill Stein, besting Trump 45 to 40 percent. One week ago, Clinton's lead was 42 to 40. The survey showed little change in the two-way race, but Clinton did gain a single point on Trump, moving from a 48 to 44 percent advantage last week to a 50 to 45 percent lead this one. Like most other recent polls, NBC News/SurveyMonkey shows Clinton performing somewhat better with registered voters than with likely ones.
The most encouraging recent survey for Team Clinton, however, may have come over the weekend, when Muhlenberg College found her leading Trump by nine in Pennsylvania. In FiveThirtyEight's analysis, no state besides Florida is more likely to determine the Electoral College winner this November than Pennsylvania is. What's more, Nate Silver's number crunchers consider Muhlenberg College one of the most accurate pollsters in the country. And during one of the worst weeks Clinton has had this cycle, they found her winning the Keystone Stone state by a healthy margin.
Still, the by-now-notorious L.A. Times/USC poll, which has consistently been more favorable to Trump than the consensus of other surveys, showed Clinton losing ground this week. In a poll taken September 5 through 11, the Times/USC showed an even race — in one taken September 13 through 19, they have Trump leading by five.
And most election forecasters still have the probability of a Trump victory sitting near all-time highs. In FiveThirtyEight's calculus, the demagogue has a greater than 40 percent chance of taking the Oval Office.
So what, precisely, should you take from these numbers? For one, it does not look like Clinton's recent polling dip is the beginning of a long-term collapse. The GOP nominee remains deeply unpopular with a majority of the electorate, and his path to victory likely relies on third-party candidates gobbling up a chunk of the anti-Trump vote. Historically, such candidates tend to perform better in polls than they do on Election Day. And even at their current, unusually high levels of support, Johnson and Stein are not taking enough from Clinton to deny her the presidency. Despite all of the recent headlines about emails, "deplorables," and walking pneumonia, Clinton is still winning this race.
But it's close. Closer than most thought it ever would be. And polls have yet to fully register the impact of this past weekend's small-scale terror attacks, or the resurfacing of Trump's birther theories. More crucially, they've yet to register the impact of the three upcoming debates, which are expected to attract a historically large viewership.
America is having a genuinely hard time deciding whether it would rather elect a flawed but competent technocrat or a racist authoritarian who (reportedly) has difficulty reading books.
So, depending on your political leanings, you might want to keep this Canadian-citizenship-application page bookmarked.