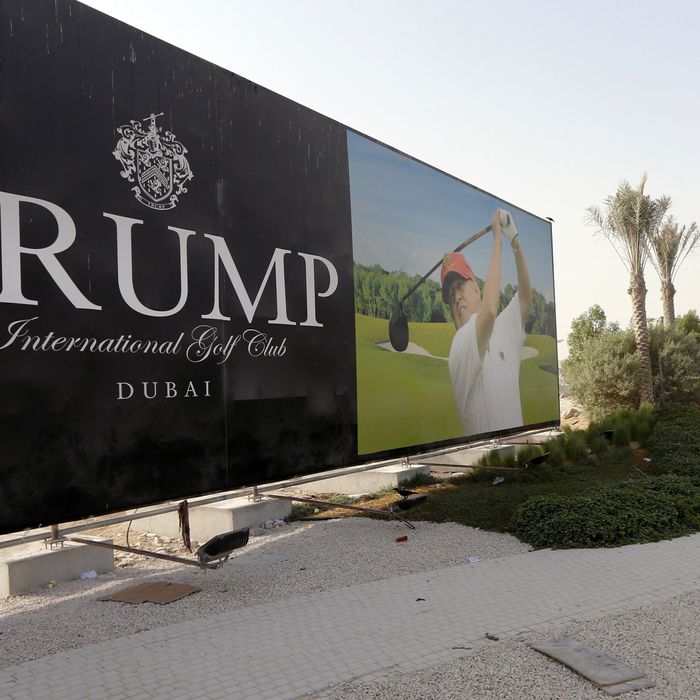 An advertisement for the future president's golf course in Dubai.
Photo: Karim Sahib/AFP/Getty Images
"Hillary Clinton has perfected the politics of personal profit," the Republican nominee declared back in June. At that time, he was referring to allegations that Clinton had traded influence in the State department for donations to her family foundation. Then, as now, such accusations were not substantiated by any smoking-gun evidence of a quid pro quo. Rather, they were based on instances that gave off the appearance of conflicting interests — like when Clinton approved the sale of a uranium company, which was owned by a foundation donor, to the Russian atomic-energy agency.
For a typical Republican candidate, such apparent conflicts of interest would be fertile ground to mine for attacks. But Trump is not a typical Republican candidate. In fact, there has never been an American presidential candidate more vulnerable to accusations of apparent conflicts of interest than Donald J. Trump: The mogul owns a business that profits off the commercial value of his own name, which he licenses to real-estate developers the world over — many of whom have direct ties to foreign governments and political parties.
And Trump has no plans to meaningfully distance himself from his business interests should he take office. In fact, at points in his campaign, he has seemingly promised to abuse his public power to advance his private interests.

Officially, his position is that he will place the company in a "blind trust" — and that his adult children will oversee its day-to-day operations. But unless Trump plans to cut off all personal relations with his offspring, this arrangement is roughly the opposite of a blind trust.
What's more, while the Clinton family profits only indirectly from donations to their charitable organization (via prestige, the power to give out cushy nonprofit jobs within the foundation), the Trumps make millions in direct profits from their corporation's overseas partners and investors.
In his exposé on the Trump Organization's foreign ties, published in Newsweek on Wednesday, Kurt Eichenwald concisely summarizes the overarching conflict this state of affairs represents:
Any government wanting to seek future influence with President Trump could do so by arranging for a partnership with the Trump Organization, feeding money directly to the family or simply stashing it away inside the company for their use once Trump is out of the White House.
Eichenwald's investigation is worth reading in full, but here are a few of the countries where he suggests Trump's financial interests — and America's national interest — may come into conflict:
South Korea
The Trump Organization has financial ties to Daewoo Engineering and Construction, a South Korean firm that, among other things, aids in the development of nuclear power plants. At various points in his campaign, the GOP nominee has suggested South Korea may need to finance its own defense, including the development of a nuclear deterrent to its northern enemy. Trump's business partner could, ostensibly, profit from such a development. But it's far from clear that kicking South Korea out from under America's "nuclear umbrella" would be in our national interest, or in that of global stability.
India
Trump has licensed his name to a pair of 22-floor towers that Panchsil Realty seeks to build in the city of Pune. But in August, the local government found discrepancies in its land records "suggesting that the land on which the building was constructed may not have been legally obtained by Panchshil." The investigation is ongoing.
The Pune project is just one of several ventures the Trump Organization has in the South Asian country, as Donald Jr. advertised earlier this summer.
"We are very bullish on India and plan to build a pan-India development footprint for Trump-branded residential and office projects,'' Donald Trump Jr. told the Hindustan Times, shortly before the Republican National Convention. "We have a very aggressive pipeline in the north and east, and look forward to the announcement of several exciting new projects in the months ahead."
Like most real-estate developments, many projects in that pipeline will require the cooperation of Indian authorities. Eichenwald spells out the potential conflicts this presents:
If he plays tough with India, will the government assume it has to clear the way for projects in that "aggressive pipeline" and kill the investigations involving Trump's Pune partners? And if Trump takes a hard line with Pakistan, will it be for America's strategic interests or to appease Indian government officials who might jeopardize his profits from Trump Towers Pune?
Turkey
In 2008, the Trump Organization inked a branding deal with one of the most politically connected developers in Turkey. When the Dogan Group opened Trump Towers Istanbul in 2012, Turkish president Recep Tayyip Erdoğan presided over their ribbon-cutting.
But Aydin Doğan was indicted in a fuel-smuggling scheme back in March. With the family falling out of political favor — and Trump rebranding himself as America's leading Islamophobe — Erdogan called for the mogul's name to be removed from the towers this past June.
Turkey is a key ally in America's fight against ISIS. A President Trump would enter office amid a feud with its president over a lucrative business deal. It's possible this latter fact could jeopardize the former one.
Azerbaijan
Trump has partnered with local developer Garant Holding, to construct a real estate project in the nation's capital. Garant is controlled by Anar Mammadov, the son of Azerbaijan's transportation minister Ziya Mammadov. U.S. diplomats suspect the elder Mammadov may have laundered money for the Iranian military.
Trump's development with Garant is currently on hold, but not canceled. If it goes through, and if U.S. intelligence has concluded that the Mammadovs are, indeed, involved in laundering money for Tehran, it's possible that Trump's foreign policy on Iran and Azerbaijan could be compromised by his business partner's other interests.
Eichenwald details other potential conflicts, including in the United Arab Emirates, Ukraine, and Russia. In some cases, the examples he cites could be framed as evidence that Trump will not allow his business interests to infringe on his policies: The Republican nominee's Muslim ban has been a disaster for his interests in the UAE. However, as with Turkey, this fact could sour diplomatic relationships between Trump and America's Middle East allies from day one.
"My father already said he would put it into a blind trust and it would be run by us," Ivanka Trump explained on Good Morning America Wednesday morning, in response to Newsweek's story. "So he's been very articulate on that fact and outspoken, but this is so much bigger than another deal and we all recognize that."
Meanwhile, the Trump campaign's ambassador to CNN, Corey Lewandowski, suggested that Eichenwald's report could be dismissed because the reporter has said that George W. Bush was involved in 9/11. (Eichenwald has said no such thing).
"My whole life I've been greedy, greedy, greedy. I've grabbed all the money I could get," Trump said at a Republican debate in January. "I'm so greedy. But now I want to be greedy for the United States."
This November, the American people will decide whether to not to believe a "greedy, greedy, greedy" man when he says he has their best interests in mind.