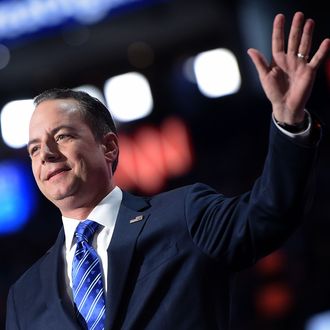 Hi, haters.
Photo: Brendan Smialowski/AFP/Getty Images
It was a busy weekend for Republican National Committee Chairman Reince Priebus. First, he weighed in on the Trump campaign's ongoing birther controversy, parroting Trump's most recent position that that it was Hillary Clinton's 2008 presidential campaign that invented the conspiracy theory.
"People get convicted every single day with circumstantial evidence that is enough to tip the scale," Priebus told Face the Nation's John Dickerson. "And by the preponderance of evidence before us, Hillary Clinton or her campaign were definitely involved in this issue. We can't keep saying it's not true. That's ridiculous."
That statement is patently false: While some evidence has been found linking two Clinton campaign supporters to birtherism, nothing points to the involvement of the campaign or of Clinton herself.

Priebus's stance on the birther issue drew ire from the left, but his next pronouncement opened him up to criticism from his own party. In the same interview, Priebus strongly hinted that if fellow Republican do not fall in line and support Donald Trump, he will make it impossible for them to run for office in the future.
"Those people need to get onboard," he said. "And if they're thinking they're going to run again someday, I think that we're going to evaluate the process — of the nomination process and I don't think it's going to be that easy for them."
Apparently this was the last straw for Ohio governor John Kasich, whose displeasure with his former primary opponent and ongoing disagreements with the party Establishment have been something of an open secret. (It was obvious something was up when he refused to attend the Republican National Convention, which was in his home state.) On Sunday night, Kasich essentially made his feud with Priebus public when his top adviser John Weaver released a statement saying, "The idea of a greater purpose beyond oneself may be alien to political party bosses like Reince Priebus, but it is at the center of everything Governor Kasich does."
Weaver went on to imply that Trump will be unable to win the White House, saying that Kasich has "an inclusive, conservative vision that can actually win a national election." He warned of a "potential national wipeout … occurring on Reince's watch."
For there to be such open hostility between the head of the RNC and the Republican governor of a vital swing state during a late-stage closely contested political campaign is pretty much unprecedented.
In his own Sunday show appearance, Kasich made his opinions on a Trump presidency very clear. He told Meet the Press that he can't bring himself to vote for Clinton, but when asked if he'll vote for Trump, Kasich responded: "It's very, very likely I will not."