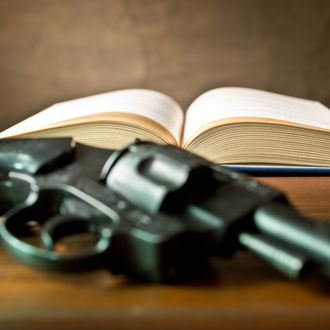 Photo: aaron007/Getty Images/iStockphoto
Angry protests erupted after police fatally shot a black man in his car in Charlotte, North Carolina, on Tuesday afternoon.
Police are saying that Keith Lamont Scott, 43, was armed and resisted arrest while witnesses claim that Scott was disabled, unarmed, and carrying only a book when he was gunned down.
According to police, officers had been searching a nearby apartment complex for somebody with an outstanding warrant when they say they spotted Scott getting out of his car and holding a firearm. When Scott got back into his car, police say they approached him and he got back out of his car, holding the gun and posing "an imminent deadly threat to the officers who subsequently fired their weapon striking the subject."
Officers reportedly summoned medical assistance immediately and gave Scott CPR. He was pronounced dead at the hospital. Police also say they have recovered the firearm Scott was holding at the scene.
Their version of events is markedly different from that of witnesses.
A women claiming to be Scott's daughter live-streamed the immediate aftermath of the shooting on Facebook — it has since been deleted — and claims that her father was waiting for the school bus to drop off his son. She said that she heard police shout at Scott, telling him to put his hands up before breaking the car window, tasering him, and shooting him four times.
"The police just shot my daddy four times for being black," the woman says in the video.
A man who says he is Scott's son claims that he was shot by an undercover police officer wearing street clothes.
According to his family, Scott was married with seven children.
Police have identified the shooter as an African-American police officer named Brentley Vinson. He has been placed on paid leave.
The shooting took place just before 4 p.m., and by 9 p.m. crowds of protestors had gathered at the site of the incident. More than 100 people flooded the scene chanting "black lives matter" and "it was a book." There were reports of protestors throwing objects at riot cops, and police tweeted that "agitators" were joining the crowd, and later said 12 officers were injured.
Police in tactical gear used tear gas in an attempt to disperse the crowd, with at least one protestor reporting minor injuries. Protestors also targeted police cruisers. One had to be towed away from the scene.

Tuesday's shooting was the sixth incident of a civilian being killed by the Charlotte-Mecklenburg Police Department in the last year.