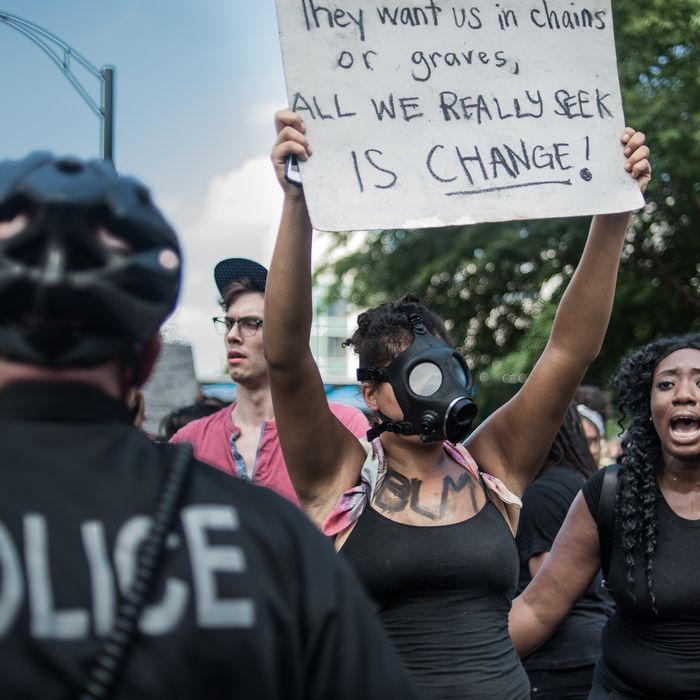 Demonstrators protest outside Bank of America Stadium before an NFL game on Sunday.
Photo: Sean Rayford/Getty Images
Protestors marched through downtown Charlotte for the sixth night in a row on Sunday.
The demonstrations began after a police officer shot and killed 43-year-old Keith Scott last Tuesday. Police claim that Scott was armed and behaving in a threatening manner, but witnesses say that he was only holding a book. Protestors — as well as the victim's family, activists, community organizers, and the New York Times — called for the release of the video footage of Scott's shooting.
On Saturday, police released portions of two videos. The footage does not show definitively whether Scott was behaving in a threatening manner or what was in his hand. Police released photos of a handgun they say Scott was holding, and they maintain that the shooting was justified because he refused to drop the weapon.

Now protestors want police to release the footage in its entirety. "It's one word: transparency," protestor Kerby McLean, 26, a pastor at Perpetual Hope Kingdom International Church in Charlotte, told Reuters. "We're protesting until they respond to what we want them to do."

While last week the massive crowds marching through Charlotte's glitzy downtown turned violent at times, Sunday night's protests were smaller and more peaceful. They wound through downtown and some of the city's more residential neighborhoods. Officials lifted a midnight curfew that had been in effect — if rarely enforced — for the last three evenings.

An even smaller group, about 100 strong, also protested outside of the city's Bank of America Stadium during an NFL game. Inside, Carolina Panthers quarterback Cam Newton wore a T-shirt with the Martin Luther King Jr. quote, "Injustice anywhere is a threat to justice everywhere," before the game began in solidarity with the protestors.
In front of the stadium, another activist, Ashley Williams of Charlotte's Trans Queer People of Color Collective, voiced her frustration to USA Today: "We didn't know in our demands that we would have to demand all the footage and tell them not to edit it, and we'd have to ask for sound, for crying out loud."