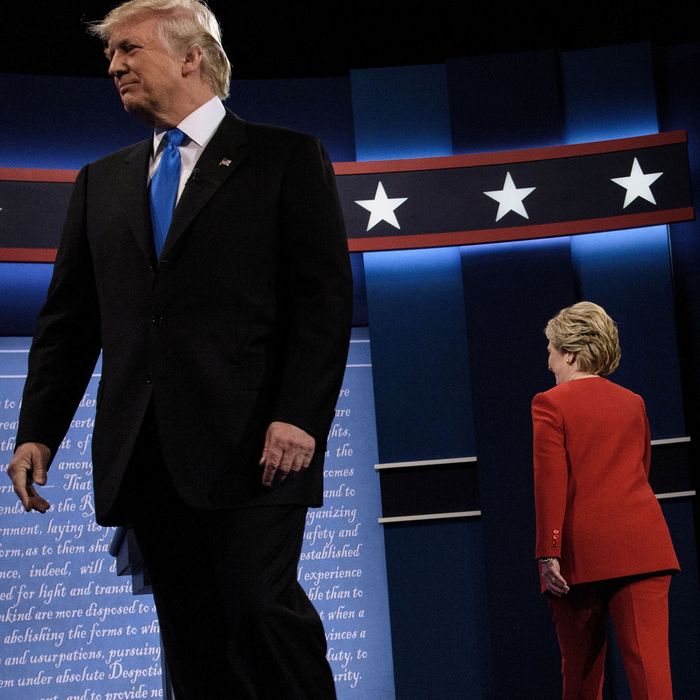 Blood on the floor of the first debate.
Photo: Brendan Smialowksi/AFP/Getty Images
Before the first presidential debate, a conventional wisdom had formed that Donald Trump merely needed to appear "presidential," which the campaign media had defined as "non-sociopathic." He failed to clear that bar.
Trump enjoyed his greatest success near the beginning of the debate, where he pounded home his nationalist-populist message on foreign trade and cornered Hillary Clinton, who has changed her stance on the Trans-Pacific Partnership. Clinton used the first portion of the debate to try to define her opponent as an advocate of conventional Republican trickle-down economics, but only managed to mention his support of tax cuts for the rich. She failed to bring up his increase in taxes on the middle class, and when Trump proposed to reduce regulations, she neglected to tie his promise to its unpopular specifics, like deregulating Wall Street, polluters, and opposing the minimum wage. It was possible for a while to imagine low-information voters buying his self-styled image as a truth-telling, nonpolitical outsider who would shake up the system.
Trump managed to tell a number of lies without consequence. He insisted he had never called global warming a Chinese hoax, when that very claim is still up on his Twitter feed. He insisted crime has risen in New York, when it has fallen. He insisted that, contrary to his public support for the Iraq War, he had opposed it in private, inaccessible conversations with his lickspittle Sean Hannity — who, if called upon to do so, would probably vouchsafe that Trump indeed won the 1985 American League Most Valuable Player Award.
What did work for Clinton was sowing doubts about Trump's character. She mentioned his $14 million loan from his father, and Trump aggravated the damage by calling the loan "small" without disputing the sum. He gave no coherent reason for why he could not release his tax returns. He admitted to failing to pay contractors, insisting they had all done poor work, an excuse hardly any person who had done work for hire could find plausible or acceptable. He defended his record of refusing housing accommodations to African-Americans by saying he had signed a consent decree with no admission of guilt, and then, years later, built a club in Palm Beach that did not exclude people by race. His defense of the charge of fomenting birtherism was a disaster. When he tried out his campaign line that he merely wanted to force Barack Obama to produce his birth certificate, Lester Holt noted that he continued to question its authenticity in each of the next four years, at one point sputtering, "Look, it's all words."
The final exchange of the debate was the most devastating. Clinton lacerated Trump for his dehumanization of women — the kind of sexualization that offends social conservatives and social liberals alike. She brought up his abuse of one of his beauty-pageant contestants — noting, as an aside, his fondness for hanging around them — and that he called one contestant "Miss Piggy" and, because she is Latina, "Miss Housekeeper." When Trump fell for the trap by demanding her name, Clinton supplied it: Alicia Machado, driving home the justifiable impression that Clinton sees her as a human being, unlike her opponent, who sees her as a piece of meat. His response consisted of whining that her campaign was spending money to attack him in advertisements.
How did Clinton come across? She maintained her composure and her dignity, something no Republican who confronted (or was bullied by) Trump in the primary debates managed to do. She had facts at her disposal, she apologized for her poor choice of email systems, and she conveyed that she is sane and competent. The contrast between an obviously and eminently qualified public servant and a ranting bully was as stark as any presidential debate in American history.