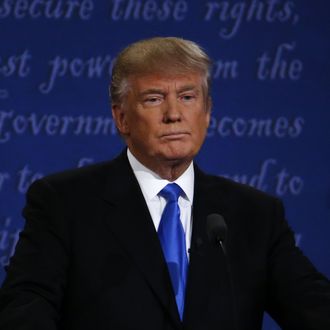 "I didn't mean follow my money."
Photo: Bloomberg/Bloomberg via Getty Images
Donald Trump reportedly found it hard to pay attention during debate prep, but when it comes to attacks on Hillary Clinton that are likely to backfire, the man is laser-focused. This week, Trump has been pushing a new attack line regarding the Clinton Foundation, saying, "With her it's about 'follow the money.' Remember that phrase." Meanwhile, a new report from the Washington Post's David Fahrenthold — who has been doggedly "following the money" flowing through the Donald J. Trump Foundation for months — says that the charity does not even have the certification required to legally solicit donations in New York.

Earlier this month, New York Attorney General Eric Schneiderman confirmed that he has opened an investigation into the Trump Foundation "to make sure it's complying with the laws governing charities in New York." Now, Fahrenthold reports that the Trump Foundation never obtained the state registration required in New York for any charity that solicits more than $25,000 per year.
A spokesman for Schneiderman confirmed that the Trump Foundation is not registered, but would not comment whether that's part of its ongoing investigation. (In a separate report released Thursday, a lawyer for the town of Palm Beach, Florida confirmed that Schneiderman's office has asked for documents related to Trump using foundation money to settle a legal dispute with the town, which may amount to illegal self-dealing.)

If Schneiderman finds that the Trump Foundation is soliciting donations though it isn't registered, the attorney general could order the charity to halt its fundraising efforts, and seek a court order to make Trump to return the donations he's already collected.

It shouldn't be too hard for Schneiderman to make his case, thanks to Fahrenthold's previous reporting. The New York law that applies to large charities, called "7A," defines "solicit" broadly, saying it means "to directly or indirectly make a request for a contribution, whether express or implied, through any medium."
Tax documents show that in the past 10 years the Trump Foundation has raised more than $25,000 from outside donors (in fact, Trump stopped donating to his charity after 2008). And to cite just two examples that would appear to constitute "soliciting" donations, Trump directed Comedy Central to donate the $400,000 appearance fee for his 2011 TV "roast" to his foundation, and when he skipped a primary debate and held a televised fundraiser for veterans instead, the $1.6 million collected went to the Trump Foundation.

It's surprising that a sophisticated businessman such as Trump wouldn't know that his charity needs to be registered — particularly because the Eric Trump Foundation, which uses the same accountant, filed the necessary paperwork. Failing to register isn't just an insignificant clerical error. Since the foundation wasn't registered, the state did not require an independent annual audit that might have discovered charity funds were being handled improperly — like, for instance, to personally benefit the man running the foundation.