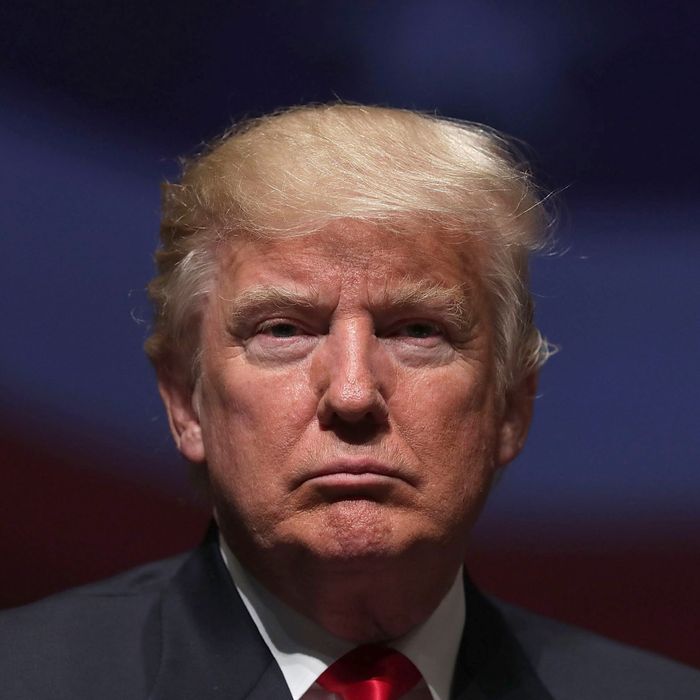 Trumped.
Photo: Alex Wong/Getty Images
August is normally a time when reactionary megadonors put politics aside to spend some quality time with their families and/or capital gains. But this is not a normal year.
As Donald Trump's poll numbers nosedived last month, conservative plutocrats spent millions trying to insulate the GOP Senate from wild garbage fires. Politico reports that two outside groups designed to elect Republican Senate candidates — the Senate Leadership Fund and One Nation — took in $42 million in August, the largest one-month haul either group has received this cycle.
"Basically August was the month that donors rolled up their sleeves and got in the game," Steven Law, the president of One Nation and executive director of the Senate Leadership Fund, told the publication. "A lot of it was driven by Trump's post-convention performance. It was a major galvanizing factor where donors decided they wanted to invest in something."
At present, the GOP holds a four-seat majority in the Senate. But the 2016 map is favorable to Democrats, and Trump's deep unpopularity among college-educated and nonwhite voters exacerbates the challenges facing down-ballot Republicans in purple states. As of this writing, the New York Times gives Democrats a 53 percent chance of taking back the upper chamber, while the Princeton Election Consortium gives Team Blue a 74 percent chance of seizing Mitch McConnell's gavel.
Still, the race for the Senate remains close. And the Senate Leadership Fund has just begun its air campaign, which is poised to broadcast $60 million worth of ads in Indiana, Missouri, New Hampshire, North Carolina, Nevada, Ohio, and Pennsylvania (all of which boast competitive Senate races). If those ads reach their target voters — and Trump's numbers continue to tick upward — Democratic Senate candidates will have their work cut out for them.
For now, the single most likely seat count in next year's Senate, according to the Times, is 50 Democrats (including Democratically aligned independents) and 50 Republicans.