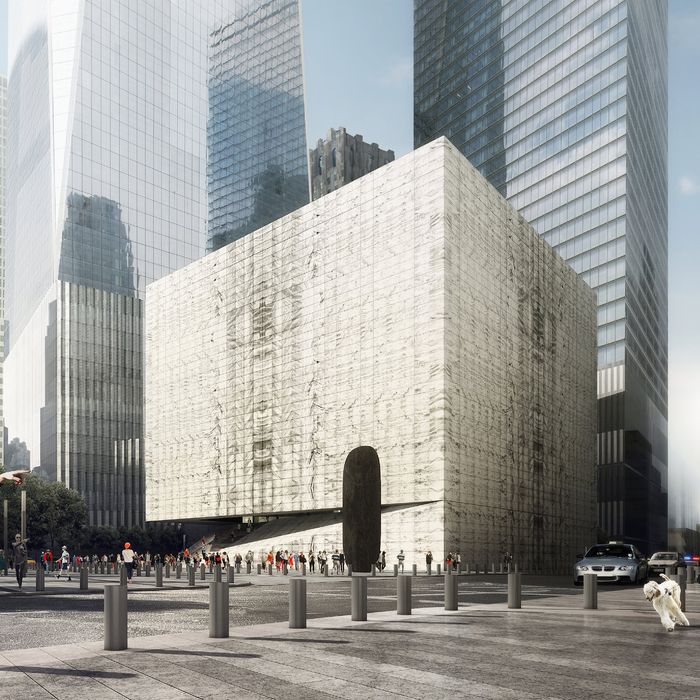 The Perelman Center, soon to arrive at Ground Zero.
Photo: REX
When is a glass box not a glass box? When it has a thin film of marble pressed between transparent panes, a layer so insubstantial it could practically be a photograph. That sort of stone scrim will wrap the World Trade Center's proposed performing-arts complex, which seems apt, since a theater exists to turn surface into substance. During the day, the cool white quasi-cube sits on a 21-foot-high stage, an opaque presence in a crystalline cityscape. At night, lights and action inside throw shadows on the translucent walls, intimating excitement within.
It was always obvious that, among the various forces that shaped the World Trade Center reconstruction — commerce, real estate, politics, and commemoration — the arts would straggle in last. Finally, their turn has come. Now that Santiago Calatrava's transit hub has opened, the temporary PATH Station at the corner of Fulton and Greenwich streets can come down and be replaced by the Ronald O. Perelman Center, lower Manhattan's future home for theater, opera, music, dance, and film. The $243 million plan gets its heft from $100 million in federal money, a $75 million donation from its namesake benefactor, and a high-wattage board chair, Barbra Streisand.
The still-evolving design, by Joshua Prince-Ramus and his firm REX, refuses to blare. Turning away from the World Trade Center's grid, it wraps the choreographed chaos of a busy multi-stage theater in an Apple-white box of blinding simplicity. Jony Ive has given us the smooth, no-button gizmo; Prince-Ramus projects that aesthetic onto an urban scale, hiding guts of immense complexity behind a seamless, shiny surface. If the exterior lacks grit and personality, it's because the building plans to nurture plenty of both inside.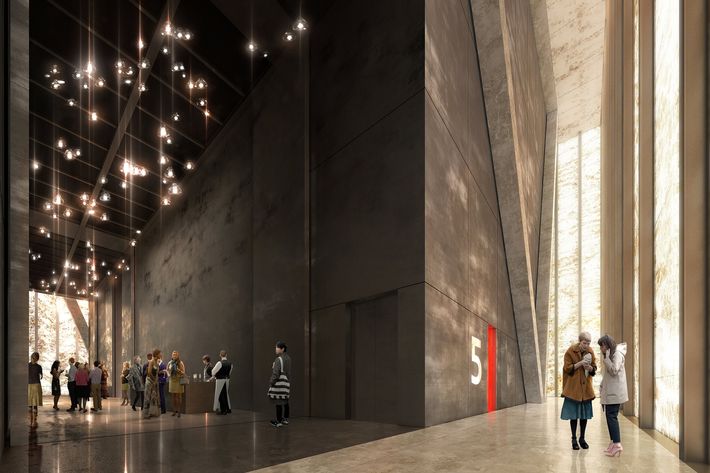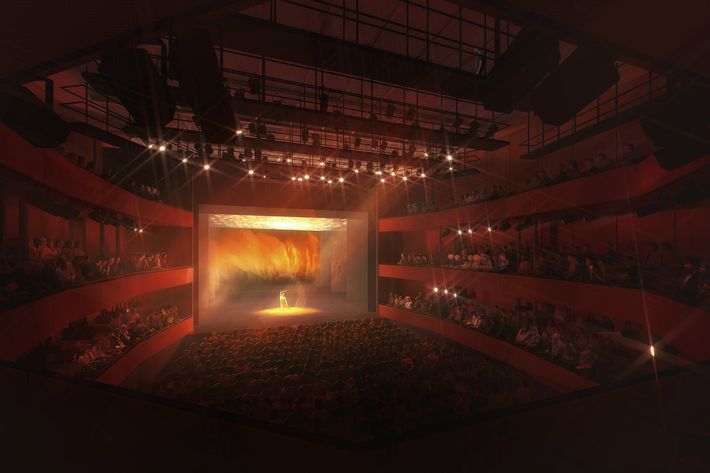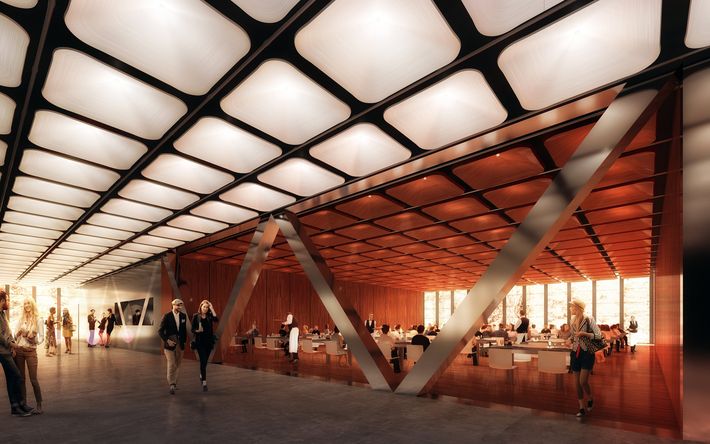 The use of stone in translucent sheets has a long and sacramental history, from the windows in the 14th-century Cathedral of Orvieto in Italy to Rafael Moneo's 2002 Cathedral of Our Lady of the Angels in L.A. But the most direct inspiration is Gordon Bunshaft's Beinecke Rare Books Library at Yale, where strong sunlight filters through thin stone walls, bathing readers and volumes in a dim reverential glow. The difference here is that the Beinecke, austere though it is, separates the squares of marble in contoured granite frames, giving the façade texture, shadows, and depth. Prince-Ramus's design, on the other hand, locks the grain behind a reflective coating, turning the building into an object too precious to touch.
Adapting Bunshaft for the high-gloss context of the World Trade Center, Prince-Ramus has designed what he calls a "mystery box," a casket for theatrical riches that reveal themselves only once you've climbed the stairs and entered the lobby. With the National September 11 Memorial & Museum just outside, the building has a duty to separate art's raucousness from quiet commemoration.
The public level sits at the top of the stairs, a lobby and café floor that can be used for school groups, parties, community meetings, and cabaret. Above is a packed labyrinth of costume shops, dressing rooms, and offices. On top of that is an L-shaped arrangement of three theaters, ranging in capacity from 100 to 500, plus a rehearsal room that can also double as a capacious backstage. This rugged triple-decker interior is forged of rough concrete, wood floors, and steel-panel walls, the clichéd triumvirate of industrial chic. It's a look that has been sapped of meaning, since it gets used to impart brawny authenticity to everything from drinking coffee to buying shoes. The factory décor makes more sense in this creation machine, where architecture serves the sweaty labor of bringing visions to the stage. It also helps elide the difference between public areas and back of house: Here there will be no deluxe bars for paying audiences and cinderblock corridors for the staff. Instead, the four performance spaces can be merged and recombined, and so can the interstitial areas in between. Raise a couple of mechanized walls, and two cozy theaters metamorphose into a 1,200-seat concert hall. Deploy a few baffles, and ticket holders can flow into a backstage hallway.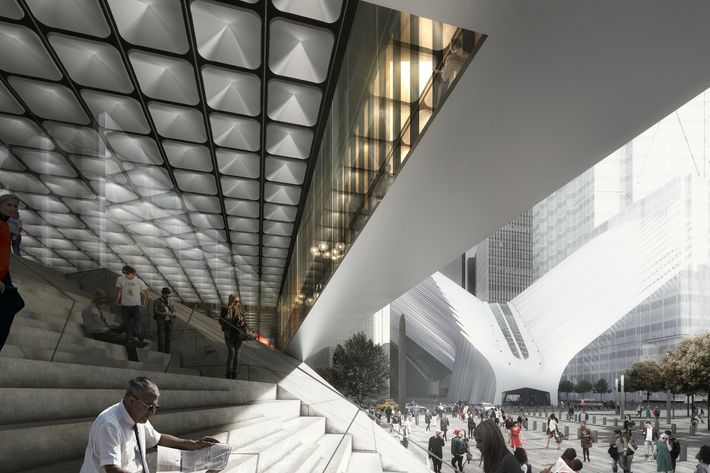 I'm suspicious of flexibility. Having a dozen different ways to reconfigure stages and reorient seating can be a little like loading your smartphone with too many apps: It increases the number of capabilities that never get used. In this case, though, the staff has tried to develop its artistic and architectural ideas in tandem, and consulting producer Jenny Gersten has plotted the intricate logistics for three fantasy seasons. Long before the building exists or the programming has been ironed out, she knows how long stagehands will need to convert a theater-in-the-round to a shoebox, or where actors can rehearse during load-in. That combination of the visionary and the methodical gives me hope that the Perelman Center will be what it promises: a constantly humming hangout and incubator in a neighborhood sorely in need of culture.
When the center opens (theoretically, in 2020), it will crown a dramatic reconfiguration of New York's performing arts. The future Shed at Hudson Yards, an expanding BAM, and an ever-more-intrepid Park Avenue Armory, plus a scattering of tiny venues like National Sawdust in Williamsburg, are challenging juggernauts like Lincoln Center. Eventually, abundance could become a glut, but for now the city still has few venues that can accommodate new operas or produce multimedia performances on a large scale. The Perelman Center won't have a resident company, and it won't function as a landing pad for touring shows developed at the Donmar Warehouse or Aix-en-Provence festival. It will incubate new work from scratch. Which means there are already plenty of homeless companies and roving geniuses waiting to beat down the doors just as soon as they are built.