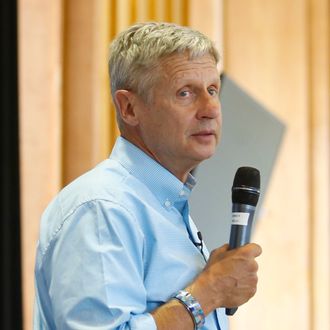 Wow, thanks Mitt.
Photo: George Frey/Getty Images
Mitt Romney hasn't said anything on Twitter in two months, but on Wednesday night he reemerged to share this wistful thought about the Libertarian ticket:

Last spring, Romney made a last-ditch effort to save the Republican establishment by aiding the campaign of every candidate who was not Donald Trump. Then, following a failed effort to recruit a like-minded Republican to run as a third-party candidate, Romney suggested in June that he was toying with the idea of voting Libertarian — though he told CNN he'd have an easier time if Johnson's running mate, former Massachusetts governor Bill Weld, were the nominee.

"If Bill Weld were at the top of the ticket, it would be very easy for me to vote for Bill Weld for president," Romney said. "So I'll get to know Gary Johnson better and see if he's someone who I could end up voting for. That's something which I'll evaluate over the coming weeks and months."
In late July, Johnson and Weld said they'd been talking with Romney, and it seemed that he may be close to an endorsement – but apparently he's still deciding whether he'd rather vote Libertarian or be the only person in America writing in Ann Romney's name. A Romney spokesman confirmed to the Washington Post that his tweet was not a Johnson endorsement.

In a recent poll, 52 percent of respondents said that they would like Johnson to be included in the first debate on September 26, but that's irrelevant. In 2000, the Commission on Presidential Debates adopted a rule that candidates must have an average of at least 15 percent in an average of five recent national polls to be eligible for the debates. The current RealClearPolitics polling average has Johnson at 8.6 percent.
Johnson has said his campaign is doomed if he doesn't qualify for the debates, and this week he began airing his first TV ads in an effort to reach 15 percent. Picking up seven points in two weeks would be a tall order for any candidate, and Politico notes that Johnson's path is about to get even tougher:

Johnson's 9-point-plus standing came through polls of registered voters, but in the coming weeks, many of the five network pollsters are switching to polls of likely voters, a smaller subset of the population among whom Johnson has thus far scored slightly worse. In the three August polls that included results for both registered and likely voters, Johnson scored a point worse among likely voters in two of them, and his share was unchanged in the third.
In order to achieve such a miraculous bump in the polls, Johnson would have to score a major coup — maybe something like the endorsement of a well-respected Republican who would make it socially acceptable for other Never Trumpers to abandon the GOP. If Mitt Romney can think of someone who fits that description, he should definitely tweet out his idea.