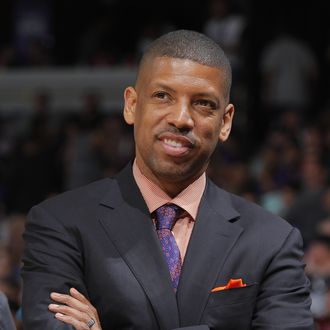 Mayor Johnson.
Photo: Rocky Widner/NBAE/Getty Images
Don't you just hate it when your farm-to-table dinner is ruined by your mayor getting into a bloody brawl? About 200 people in Sacramento — including high-school students — had their celebration of the city's "Farm-to-Fork Week" disrupted on Wednesday night when a protester ran up to Mayor Kevin Johnson and threw a pie in his face.

According to a report from the East Bay Express, Johnson, a former NBA star, responded by tackling the protester and punching him in the face "repeatedly," landing "five to ten blows," according to sources. Witnesses said the man was beaten to a "bloody pulp" and looked like he will need stitches.

A police statement on the matter presented a different version of events. It says that a police officer on the mayor's security detail "called for additional assistance and was able to restrain the assailant without incident." The protester, 32-year-old Sean Thompson, "sustained a minor injury" and was taken to the hospital for treatment. He was then "arrested on felony charges of assaulting a public official and will be booked into the Sacramento County Jail."
The mayor's spokeswoman, Crystal Straight, confirmed that the mayor punched Thompson, but said Johnson didn't realize he was hit with a pie. "The mayor just felt he was being punched in the face," she told the Sacramento Bee.
After the altercation, Johnson changed his clothes and addressed the crowd, apologizing for the incident. He also brought up UFC fighter Urijah Faber, who happened to be at the event. The crowd reportedly applauded Johnson. The mayor has been booed at several public events and said he will not seek reelection after several women accused him of sexual misconduct.

Johnson and his aides are emphasizing that it was the pie thrower who attacked the mayor. "Let me be clear, the mayor was assaulted tonight," said Strait. "He is home with his family … The whole thing is just shocking."
The mayor offered this update:

And while the video has yet to appear online, Faber reportedly commended the mayor for taking down the pie thrower: