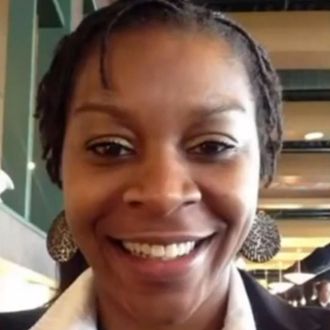 Sandra Bland's mother, Geneva Reed-Veal, has agreed to settle her wrongful-death lawsuit against Texas's Waller County and the Texas Department of Public Safety for $1.9 million, the Associated Press reports, more than a year after her daughter was arrested during a traffic stop and found dead in her jail cell days later.
According to the family's attorney, Cannon Lambert, the settlement also stipulates that the county jail have a nurse or emergency medical technician on duty at all times and install electronic sensors to ensure that guards are checking on detainees. The county and the department have also agreed to lobby for a state law named after Bland that would require jail personnel to undergo training in how to properly care for inmates.
It does not require the country to admit any wrongdoing in Bland's death, however, and Waller County attorney Larry Simmons told the AP that the county "vigorously" denies that it was at fault. Simmons confirmed that an agreement had been reached, and that it would cost the county only a $1,000 deductible under its liability insurance, but said the details were not final.
The Public Safety Department said in a statement that it had not settled any litigation and was not party to this agreement, though it is named as a defendant in the suit.
Reed-Veal said the requirements imposed on the county were what really mattered to her, stressing that her case "was never just about Sandy."
"It was about all mothers who have lost their children unjustly to police brutality, to senseless gun violence."
Bland, a 28-year-old black woman from Chicago, was on her way to a new job at her alma mater, Prairie View A&M University, last July when officer Brian Encinia pulled her over for failing to signal a lane change. She was subsequently arrested for allegedly assaulting a police officer and taken to the Waller County Jail, where she was found hanging from a plastic garbage bag hours before she was scheduled to be released on bail.
Her death was ruled a suicide by the county coroner, though her family contested that finding at the time, suspecting foul play, and Black Lives Matter activists held protests throughout the country against her alleged mistreatment by the police.
A grand jury declined to indict anyone in her death last December, but Weidner was later charged with perjury for lying about Bland's conduct during the arrest and was subsequently fired in March.