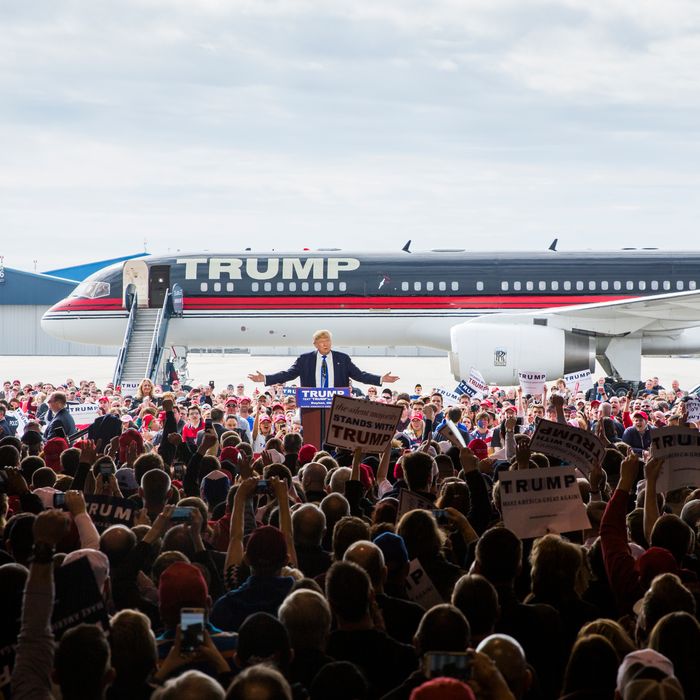 Photo: Brooks Kraft/Getty Images
The U.S. Secret Service has paid $1.6 million to a company owned by Donald Trump to cover the cost of agents accompanying the Republican presidential candidate on one of its planes, Politico reveals, citing Federal Election Commission records.
The agency's long-standing practice is to reimburse presidential campaigns for these expenses — Democratic candidate Hillary Clinton's campaign has been reimbursed $2.6 million this cycle — but in Trump's case, the taxpayer money is ultimately being paid to TAG Air, which is one of his own companies. Clinton's campaign mostly charters planes from Executive Fliteways, a private company in which the Clinton family has no stake.
This is just one of several ways in which Trump's presidential campaign has been funneling money into businesses owned by the candidate and his family. A Politico analysis has found that the Trump camp has spent a total of $8.2 million so far, or 7 percent of its $119 million spending total, on goods and services provided by Trump-owned companies, including $1.3 million in rent for campaign offices in Trump properties.
Politico calls this "an unprecedented amount of self-dealing in federal politics," noting that wealthy candidates in past elections have shied away from a practice that would usually be perceived as avaricious and corrupt, especially when taxpayer money is involved. Often, these candidates' businesses were structured in such a way that it would not have been legal for them to do so, anyway, but Trump's are apparently structured differently.
Trump, who famously boasted in 2000 that he could be the first person to turn a profit on a presidential campaign, has lately been in the business of denying that this is exactly what he is doing.
In a statement responding to Politico's findings, the Trump campaign said the alleged billionaire, whose tax returns have still not been made public, "has largely self-funded his campaign and continues to make significant contributions which far exceed the amounts the campaign is required to pay." Indeed, Trump has invested $54 million of his own money into the campaign.
Speaking of self-dealing, these latest figures come close on the heels of the discovery by Washington Post reporter David Fahrenthold that the Republican candidate had used funds from the Trump Foundation to pay legal settlements on behalf of his businesses.