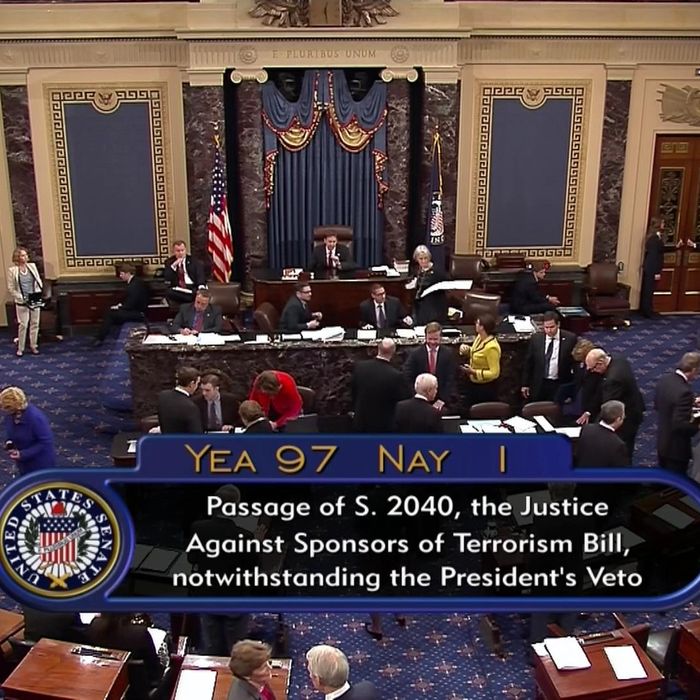 The Senate voted today 97-1 to override President Obama's veto on a bill that will allow the families of 9/11 victims to sue foreign sponsors of terrorism for any alleged role in the 2001 attacks. It's the first time in Obama's presidency that his veto has been overridden, and after the House conducts its own vote later today, which is expected to pass, the bill will become law.
Obama has long opposed the bill, which he has said would make it easier to sue representatives of the U.S. government abroad. In a message accompanying his veto, Obama wrote that the bill "does not enhance the safety of Americans from terrorist attacks, and undermines core U.S. interests."
His arguments could not sway Senate Democrats, only one of whom voted against overriding the veto — Senate Minority Leader Harry Reid. But some House members have been trying to convince colleagues to let Obama's veto stick. Texas representative Mac Thornberry, Republican chairman of the House Armed Services Committee, wrote a letter to fellow congresspeople saying the law will "create tensions and lead to less cooperation. I believe the net result will harm our security."
Tennessee senator Bob Corker said the law may need to be revised in the future so that only lawsuits related to 9/11 are allowed. "You are going to see suits filed very quickly," he told reporters, referring both to suits from 9/11 families against Saudi Arabia and suits against the U.S. that are meant to exploit the law. "We may be in a much better situation" to narrow the law "after it goes into effect, after people see the impact of this legislation," he said.