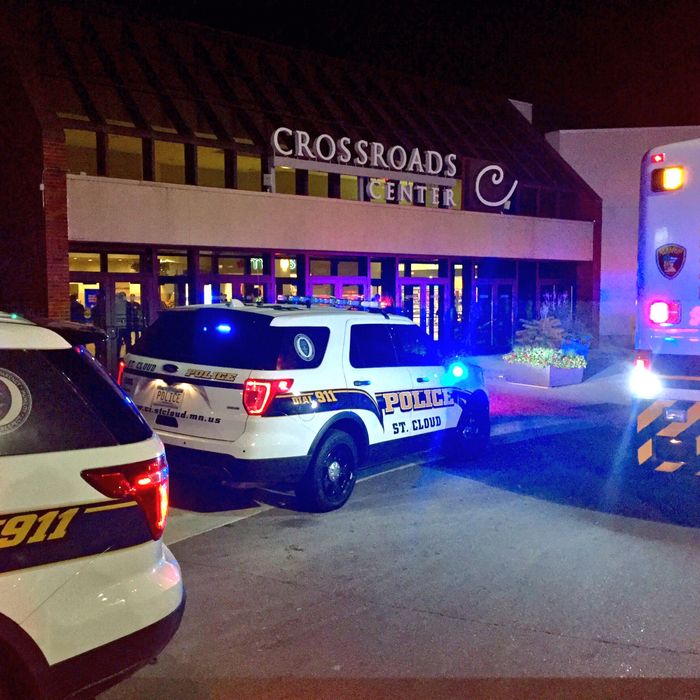 Outside the Crossroads Center mall in St. Cloud, Minnesota, following the attack.
Photo: David Peterlinz/Twitter/KARE 11
At least eight people were injured when an assailant began stabbing people at a shopping mall in St. Cloud, Minnesota, on Saturday night. The St. Cloud Times reports that the knife-wielding assailant, who was shot and killed by an off-duty police officer, apparently made references to "Allah" while he perpetrated the attack. St. Cloud Police Chief Blair Anderson also told reporters that the man asked at least one person if they were Muslim during the attack, which started around 8:15 p.m. and continued across several areas of the mall. None of the victims suffered life-threatening injuries.
Anderson did not call the attack an act of terrorism, however, as he said the man's motive had not yet been determined. The Crossroads Center mall, which is about 70 miles northwest of Minneapolis, was put on lockdown as a result of the incident, but those inside were expected to be released by early Sunday. The Star Tribune reports that the still-unidentified suspect was wearing a private security uniform, and that his only prior run-ins with police were for traffic stops. All but one of the injured victims were released from the hospital on Saturday night.