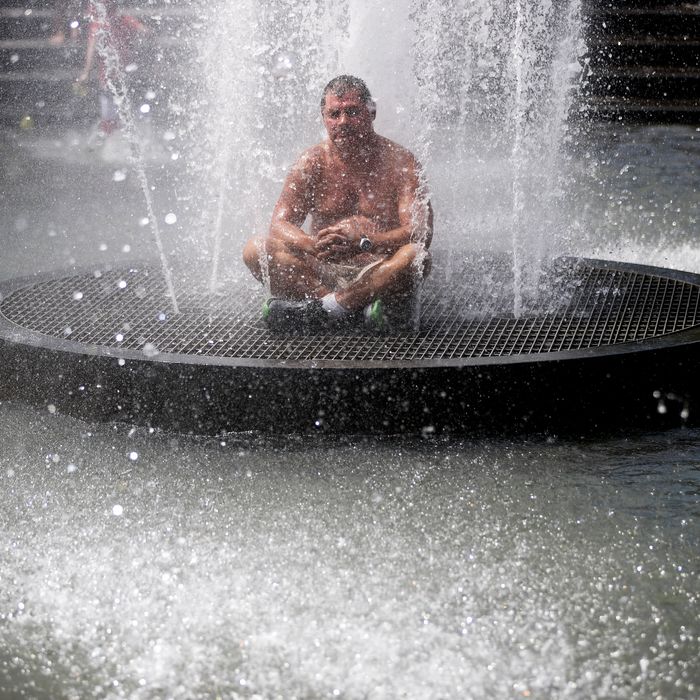 But maybe the last chance to do this?
Photo: Drew Angerer/Getty Images
August 31 marked the end of meteorological summer — how weather people do seasons, basically. That means forecasters' autumn has technically begun. It absolutely does not feel like it.
The first full week of September has a mid-July feel in New York, one that would have started sooner were it not for Tropical Storm Hermine. The now-post-tropical cyclone opted to spend Labor Day weekend out at sea, mostly sparing the northeast from the brunt of the storm. But the much-weakened system swung back toward the area early this week, and even in her diminished presence kept a heat wave at bay, according to New York Metro Weather. Now what's left of Hermine is basically gone, and here come those high temperatures
And clear and sunny skies, at least. Parts of the tristate area, including New York City, are under a heat advisory until Friday evening. The heat and humidity are going to combine to make it feel mid-90-ish in the area. It was getting up there already around noon:
New York City officially reopened the beaches Thursday, after shutting them down Sunday because of Hermine's choppy surf and dangerous rip currents. There's still one weekend left to enjoy them, especially since toasty temperatures will stick around into early next week.
After midweek, there might be some fall sweater weather.
So think of the heat wave as a final chance to say good-bye to the summer of the heat dome. The National Weather Service is honoring the occasion, at least, by dropping a few doomsday figures from the season:
Above-average temperatures, too little rain, not sure what's going on with Bridgeport. How soon should we panic?