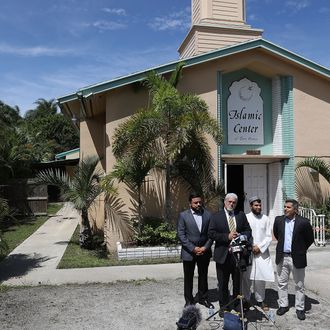 The Islamic Center of Fort Pierce.
Photo: Joe Raedle/Getty Images
Joseph Michael Schreiber, the ex-convict arrested for setting fire to the Florida mosque where Omar Mateen, the Pulse nightclub shooter, had sometimes attended prayers, has confessed to the arson, the Associated Press reports, citing an arrest affidavit.
The 32-year-old admitted to having set a fire inside the Islamic Center of Fort Pierce on Sunday, and said he was embarrassed by the crime and had never intended to hurt anyone. The attack took place on the 15th anniversary of the September 11 attacks and also happened to coincide with the Islamic holiday Eid al-Adha. While nobody was harmed in the fire, it did considerable damage, burning a ten-foot square hole in the roof of the mosque's main building.
The suspect was arrested on Wednesday based on surveillance footage and tips from community members. St. Lucie County Judge Philip Yacucci has ordered him held without bail, deeming him a flight risk and a threat to the community. Schreiber stands charged with second-degree arson, with a hate-crime enhancement, which carries a maximum sentence of 30 years in prison. He previously served two prison terms for theft.
Schreiber, who identifies as a Messianic Jew, has a history of making Islamophobic comments on social media, writing on Facebook that "all Islam is radical" and that all Muslims should be considered "terrorists and criminals."
The Islamic Center of Fort Pierce has become a frequent target of hate speech and harassment since it emerged that Mateen, who killed 49 people in a mass shooting at the Pulse gay nightclub in Orlando in June, had occasionally prayed there. Drivers have been known to shout abuse at the mosque and one member of its congregation was beaten in the parking lot after dawn prayers.