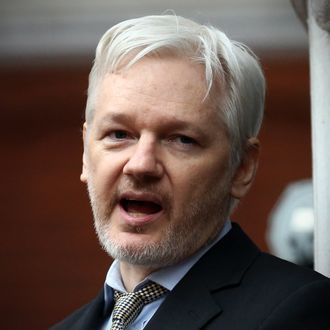 Julian Assange.
Photo: Carl Court/Getty Images
WikiLeaks founder Julian Assange's most recent attempt to quash the rape investigation against in him in Sweden has failed. A Swedish court again upheld the arrest warrant for Assange, who is wanted for questioning regarding 2010 rape allegations. Assange, who is still holed up in the Ecuadorian embassy in London, has denied those allegations and has long argued that being sent to Sweden would make him vulnerable to extradition to the United States, where he could face charges for dumping classified documents on WikiLeaks.
Assange's attorney, Per Samuelsson, vowed to appeal the most recent decision, which also rejected a U.N. finding that Assange's prolonged stay in the Ecuadorian embassy counted as "arbitrary detention." Per NPR, Assange hasn't been formally indicted in Sweden, but authorities say they need to question him before they can charge him with any crime. The statute of limitations in this case is up in 2020.
But Swedish prosecutors may also get something of a breakthrough in the investigation this month. An Ecuadorian prosecutor, acting as the middleman for Swedish officials, will question Assange about the rape allegations at the Ecuadorian embassy on October 17, a date the two countries just set. Ecuadorian and Swedish officials hashed out an agreement late last year and have been working out the details since. The Swedish court noted this new development in its decision, reports the Associated Press, but basically said it had no bearing. "This means that there is at present no reason to set aside the detention order," the court said in its decision. "Julian Assange's claim to that effect shall therefore be refused."