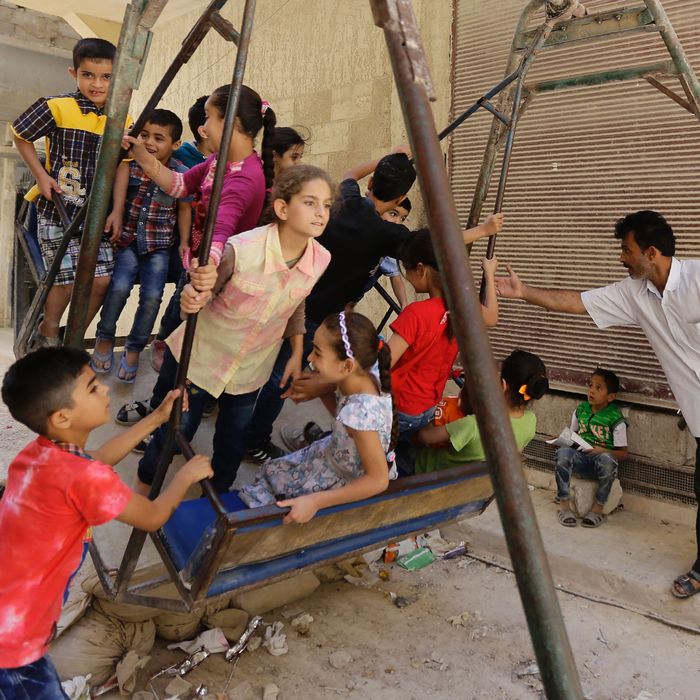 Syrian children play on a street in a residential suburb of the Syrian capital of Damascus on September 13, 2016.
Photo: Louai Beshara/AFP/Getty Images
The United States and Russia's second attempt at a cease-fire in Syria began Monday night at about 7 p.m. local time. No civilian casualties have been recorded in the first 15 hours after the truce took effect, but reports suggest that fighting hasn't totally stopped in the war-torn state.
That is a bit of a problem, as the agreement calls for a seven-day cessation of violence so humanitarian-aid organizations can deliver food and medical necessities unhindered. United Nations aid convoys are reportedly still on hold and had not yet reached civilians as of Tuesday over fears that even a temporary peace won't stick. Residents in the rebel-held portion of Aleppo said Syrian government forces, led by Russian-backed President Bashar al-Assad, had dropped barrel bombs on the area. The Syrian army accused a rebel faction of launching attacks in the south, reports the Washington Post. Reports of sporadic attacks trickled out from elsewhere in Syria, including Homs and near Damascus.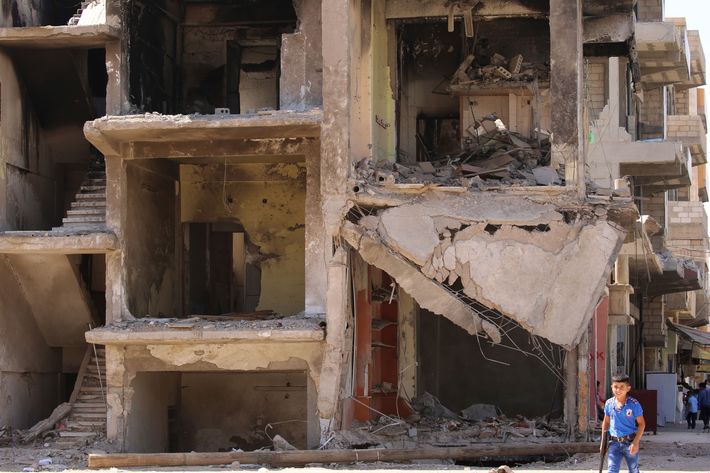 Secretary of State John Kerry, who brokered the deal in Geneva with his Russian counterpart, foreign minister Sergey Lavrov, late Friday, said that it's too early to write off the truce. "There will undoubtedly be reports of violations here and there," Kerry said. "That's the nature of ceasefires. For all the doubts that exist, and there will be many challenges in the days to come, despite that, this plan has a chance to work."
Yet skepticism prevails over whether this cease-fire will last the week, and, even if it does, whether a sustainable political solution can be accomplished after. According to this agreement, the Syrian army, backed by Russia, must halt any attacks on moderate opposition groups supported by the U.S. and its allies. In turn, the United States needs to convince those groups to dissociate from the al-Nusra Front, an Al Qaeda offshoot. After that, the U.S. and Russia will work together to target the al-Nusra Front and the other group the two agree needs to be defeated: ISIS. How to solve the problem of Assad or if Russia and Assad will stop targeting moderate opposition forces are two big and unavoidable questions that cast doubt on the potential for a longer-term settlement.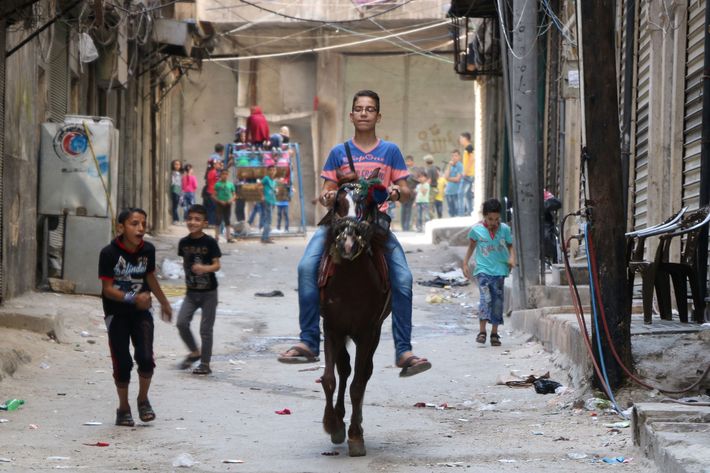 Still, intense fighting has at least taken a tentative pause. Aleppo's residents testified to a rare quiet, and even children are playing outside again. Even so, at least one grim statistic emerged Tuesday: The watchdog group Syrian Observatory for Human Rights said that more than 300,000 people have been killed since the start of Syria's five-year civil war. That figure includes roughly 86,000 civilians.