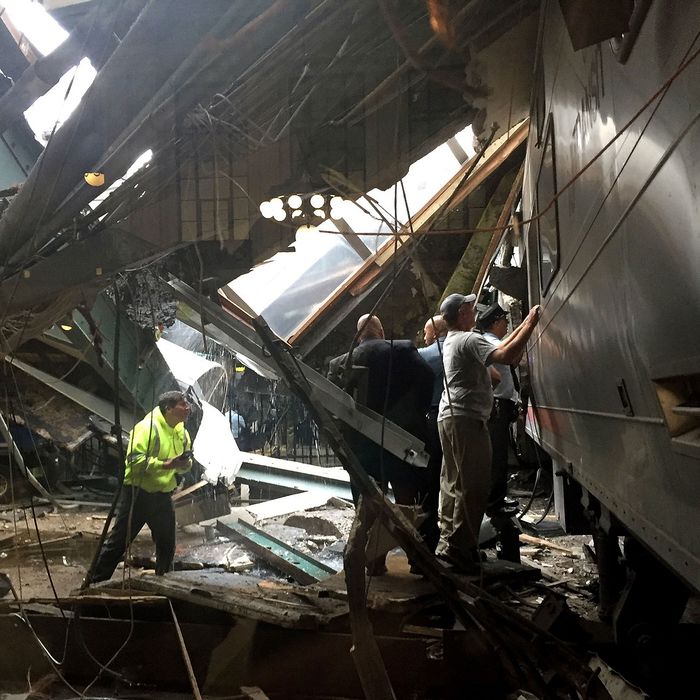 Photo: Pancho Bernasconi/Getty Images
The horrifying crash of a New Jersey Transit commuter train into Hoboken station Thursday morning, which killed at least one person and injured 100, might never have happened had the train been outfitted with a new accident prevention technology that federal authorities require on all of the country's trains.
The technology, called positive train control (PTC), is an automatic braking system that acts as a fail-safe mechanism to prevent derailments and collisions when trains go too fast. According to ABC News, the 2008 Rail Safety Improvement Act made PTC mandatory for all trains that carry passengers or hazardous materials.
The process of installing it, however, has been fraught with delays. The original deadline was the end of 2015, but Congress voted that year to extend it to the end of 2018. According to its latest report to the Federal Railroad Administration, New Jersey Transit has yet to equip any of its over 400 trains — or any of its tracks — with PTC software.
The National Transportation Safety Board is investigating the cause of Thursday's accident and told ABC News it was looking into whether PTC could have prevented it. Many believe the system could have prevented last year's fatal incident in Philadelphia, in which an Amtrak train took a curve at over 100 miles per hour and derailed, killing eight.
Whether or not PTC could have prevented these specific incidents, the NTSB is adamant that railroads get on with installing it. According to the Daily News, the board estimates that the technology could have prevented 145 accidents since 1969, avoiding 288 deaths and nearly 6,600 injuries.
"The NTSB has been recommending positive train control for 40 years," NTSB member Bella Dinh-Zarr told ABC News.