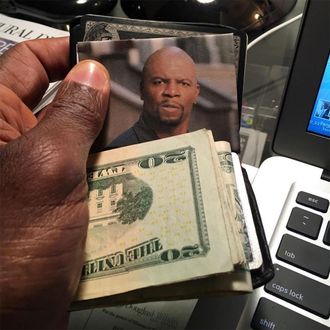 Photo: terrycrews/Instagram
To start, this meme involves two people. The first is a 19-year-old college student named Daniel Cabral. The second is Terry Crews, actor and shirtless Old Spice spokesperson.
Earlier this month, Cabral tweeted a picture of his wallet, containing several credit cards and a picture of Crews as Julius, the thrifty dad from Everybody Hates Chris. "I keep this pic of Terry Crews in my wallet so I can see it when I'm about to waste money on things I don't need lol," Cabral explained, to the tune of 220,000 retweets and counting.
Crews, in a move that shows he also enjoys internet culture (hi, Terry, welcome to Select All) or just likes attention, re-created the meme with his own wallet earlier today. He posted a picture of the bit on Instagram, including the same caption and even positioning his wallet over a laptop just like Cabral's photo.
Memes, they're just like us!