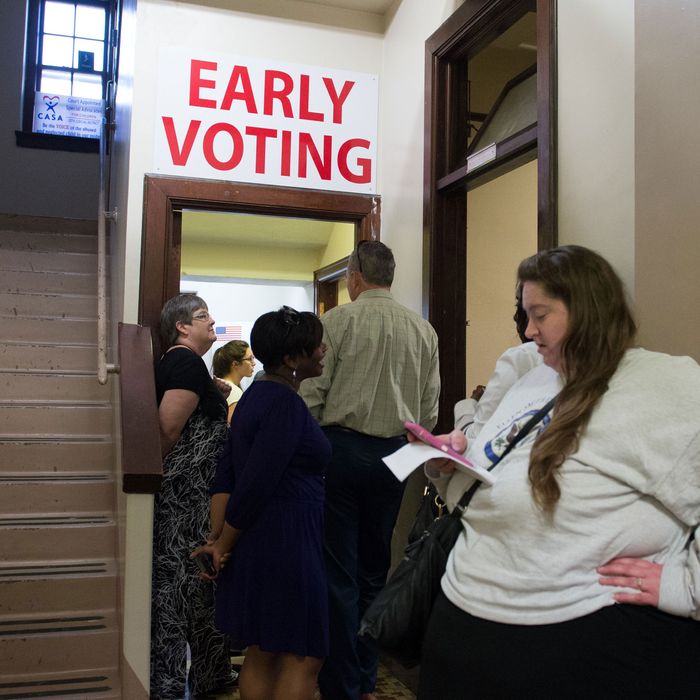 Even before the first debate, the first votes will be cast in this presidential election.
Photo: Michael B. Thomas/AFP/Getty Images
It's almost time to begin referencing 2016 voting in the present as well as future tense. As Bloomberg's Terrence Dopp noted yesterday, North Carolina begins mailing out absentee ballots this Friday. A week later, in-person early voting will start up in Minnesota. Before voting concludes on November 8, about a third of voters — perhaps even more — will have already cast ballots. And early voting is especially prevalent in some of the battleground states:
Early voters will make up more than half of the electorate in the crucial states of North Carolina, Colorado, Florida, Nevada, Arizona, and Georgia, according to projections from the Associated Press.
When early voting really gets rolling next month, candidates will be banking votes and turning their attentions — via ads and GOTV efforts — to those that are left. With each day the events of the "campaign" will become irrelevant for a steadily rising percentage of the electorate. And that means the traditional perception of an election cycle heading to a climactic finish on November 8 could be misleading, despite all the hoopla that will naturally accompany the final efforts of the candidates, and all the polling and punditry that will reach a final frenzy then.
It is not 100 percent clear which if either party will take most advantage of early voting. In the old days it was older white voters most likely to "vote absentee." But Democrats caught up in organized absentee ballot strategies more recently, and did even better with in-person early voting, particularly in 2008. By 2012, the Democratic advantage in early voting declined. But with Hillary Clinton's campaign investing a lot more in both analytics and field operations, it could return this year.
In a very real sense, Election Day is already beginning. It just lasts a lot longer than before.