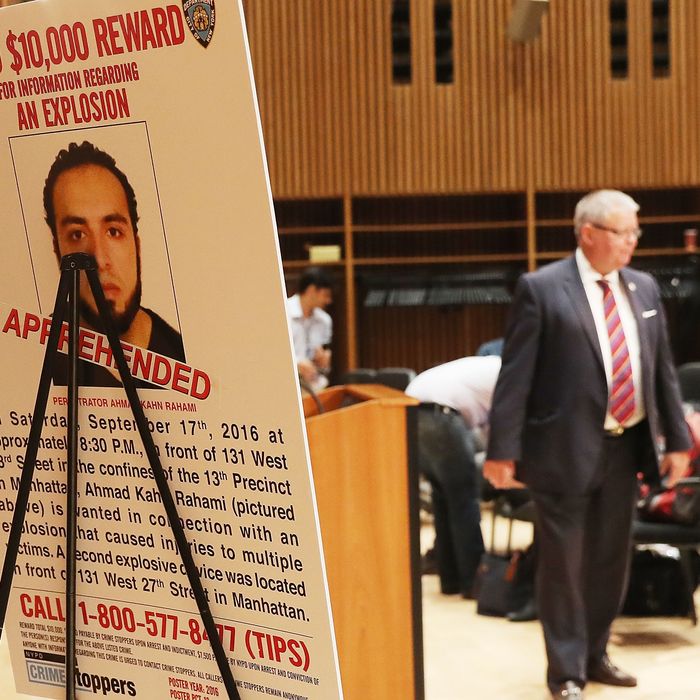 A poster of Rahami at a media briefing in New York.
Photo: Spencer Platt/Getty Images
The American Civil Liberties Union of New Jersey announced on Monday that it has been retained by Ahmad Khan Rahami's father and his wife to defend him until he is appointed a public defender.
Rahami, 28, stands accused of planting bombs in both New York and New Jersey earlier in the month, and has been in a hospital in Newark since being shot seven times in a shootout with police last Monday.
Rahami faces federal and state charges in both New York and New Jersey and questions over his legal representation have been especially fraught.
Public defenders in both Newark and New York have reached out, offering to represent him, but both have had their requests denied by federal judges on the grounds that Rahami has not officially been put under federal arrest.
Another state public defender from New Jersey, Peter Liguori, claims that he has tried to meet with Rahami at the hospital over New Jersey state charges springing from his attempt to kill police officers during the fire fight that incapacitated him, but was blocked by a lawyer from the country prosecutor's office.
That prosecutor's office has argued that Rahami is still incapacitated and cannot even communicate let alone "assert his right to counsel."
ACLU lawyer Alexander Shalom has disputed this, saying that "it's extremely disturbing that Mr. Rahami's lawyers have not been able to verify their client's health condition, including his level of consciousness."
Shalom filed a notice of appearance as counsel for Rahami in federal court in Newark on Monday, and released a statement saying that "the right of an accused person to have an attorney is a fundamental, undeniable right, regardless of the charges."
Among the first actions of the ACLU after being retained was sending letters to the New York and New Jersey prosecutors' offices reminding them not to interrogate Rahami without their authorization.