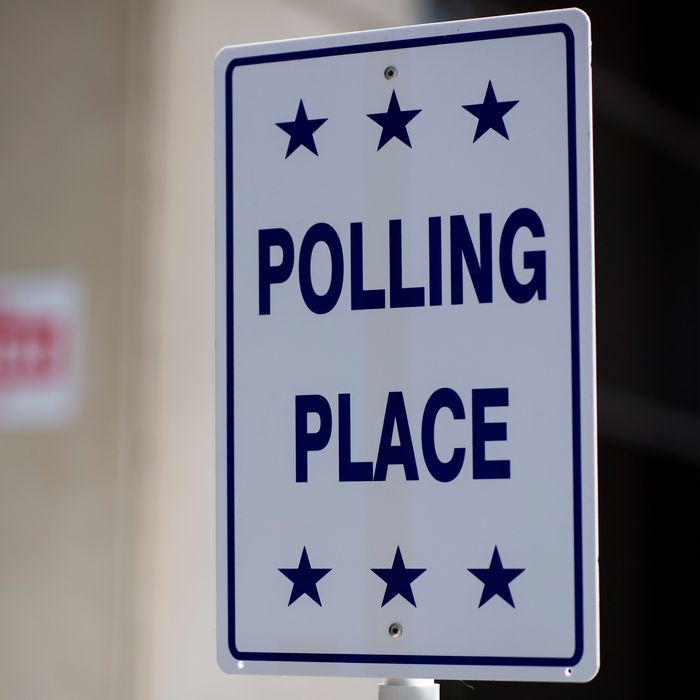 Clinton's GOTV operation will have every chance to strut its stuff among early voters.
Photo: Bill Clark/CQ-Roll Call,Inc.
As early voting gets under way in this and subsequent weeks, the impression is common that only Hillary Clinton's campaign has the infrastructure to begin mobilizing voters. The Trump campaign, mostly by default, has decided to outsource this and other forms of get-out-the-vote efforts to the state Republican parties. So, in reality, the competition on the ground will depend on resources beyond Trump's control — but it's not like the GOP candidate will have no ground game at all.
For a glimpse of how it might all go down, the second installment of Bloomberg Politics' series on battleground states, which utilizes proprietary data from an outfit named Clarity Campaign Labs, is very helpful. It focuses on three states — Nevada, Iowa, and North Carolina — where early voting is pretty important and where Democrats have traditionally had an advantage in exploiting it.
To make a long story short, Nevada is a very close state where a legendary GOTV machine created under the supervision of Harry Reid almost certainly gives Clinton a crucial boost. Iowa is another state with a rich history of smart early-vote harvesting by Democrats, but where GOTV alone may not be able to keep up with a growing GOP-tilting base electorate. And in North Carolina, another close state, early voting provides the most promising avenue for a Clinton victory, thanks to a federal court intervention that stopped the Republican state legislature from restricting it significantly.
Nevada shows how Clinton's superiority in both GOTV and paid advertising can intersect in a state with heavy early voting (62 percent voted early in 2012).
Trump has seen favorable polls here, but the composition of the state's roughly 1.6 million voters — more than 70 percent of whom live in and around Las Vegas — should daunt him. Republicans start with a larger base, but Democrats have far more GOTV targets, and early voting improves the chances that a methodical campaign can reach them ….
Even though any path will require Trump to win the state through persuasion, he is not currently airing any television ads there. (He had begun to ramp up his advertising in Nevada early in September, but appeared to suddenly cease it this past week.) Clinton, meanwhile, looks to have spent more than $600,000 there last week for a total of $5.4 million.
So in Nevada, it's advantage Clinton, perhaps decisively.
In Iowa, however, Democrats have a more difficult task:
Obama locked up 49 percent of his vote in Iowa early four years ago, helping him decisively win the state. This year, Clinton will have a tougher climb — she must secure at least half of her total win number before Election Day, 60 percent of the overall early vote, for any chance to carry the Hawkeye State.
So in Iowa, it's advantage Trump.
In North Carolina, early voting is central to Clinton's strategy:
The most important moment of Clinton's North Carolina campaign probably came on Aug. 31, when the Supreme Court restored a week of voting, beginning Oct. 20, which the Republican-led legislature had struck from the calendar ….
Those restored seven days have proven crucial to the math that makes Democrats newly competitive in North Carolina, where Obama won in 2008, and lost by only 100,000 votes in 2012: more than one-tenth of the votes Clinton needs to win will come from African-Americans who cast ballots during the equivalent period in 2012. During that week, African-Americans make up one-third of the electorate even though they amount to only 23 percent of registrants.
It's hard to say who is in a better position in the Tar Heel State, although polls have been trending in Trump's favor and his advantage among older white voters may make early voting and GOTV ultimately irrelevant. But preliminary reports on absentee ballots being requested show Democrats currently leading, reversing a Republican lead in this area at the same juncture in 2012.
As in so many aspects of this general election, Clinton's biggest advantage may be strategic flexibility: She can easily shift resources from one battleground to another, whereas Trump cannot really expect Republicans in Nevada to send money for GOTV to Republicans in North Carolina, or vice versa. In fact, state Republican parties looking after their own candidates may target slightly different voters than those Trump needs for victory. Yes, the RNC and independent groups will offer some flexible resources, but probably not enough to offset what the Clinton campaign and its allies can muster. As early voting really gets going next month, we will have a better idea how this is shaking out. And well before Election Day, the alert observer may know the likely winner enough to make some money in Vegas.