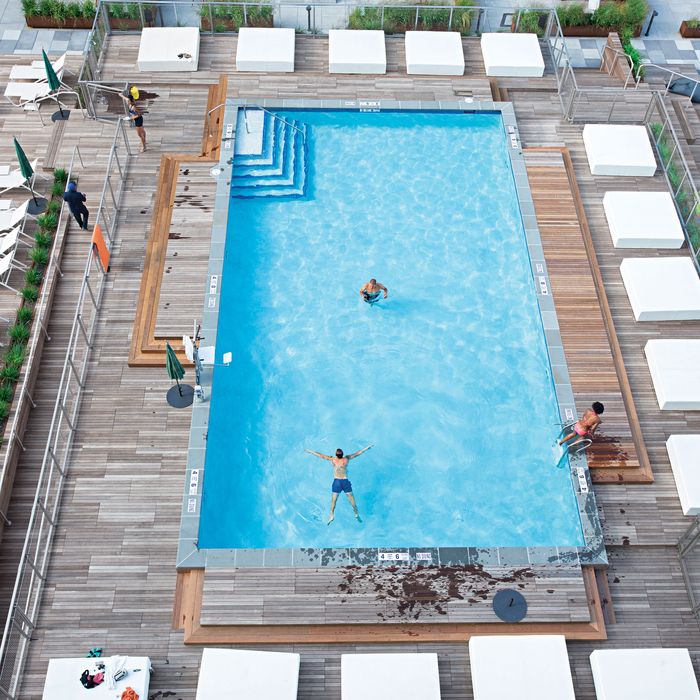 The scene on a Saturday at the Urby complex in Stapleton.
Photo: Tobias Hutzler
First things first: Staten Island is not the new Williamsburg. Having a car is pretty much required, and there are far more Dunkin' Donuts than artisanal-coffee shops. But Staten Island hasn't been in the news lately only because it might vote for Trump in the election; the waterfront near the ferry is exploding with new developments. In addition to a $580 million Ferris wheel, which just broke ground in St. George, there are hundreds of new residential constructions, including the unfortunately named Urby, a massive rental complex in Stapleton that comes with a resident farmer and a pool with a view of downtown Manhattan. Which makes sense because Stapleton and its nearby neighborhoods are crawling with Brooklynites priced out of the borough who can't stomach moving to the suburbs just yet. There's even a growing artist community, which one recent transplant tentatively says is reminiscent of "Bushwick in 1999." The less-new things that have always been wonderful about the oft-overlooked borough include its creaky Victorians with front porches; a bizarre abandoned shipyard; the sprawling, green, Catskills-like sensory experience; the truly excellent pizza; and the fact that you can party for free on the 24-hour ferry.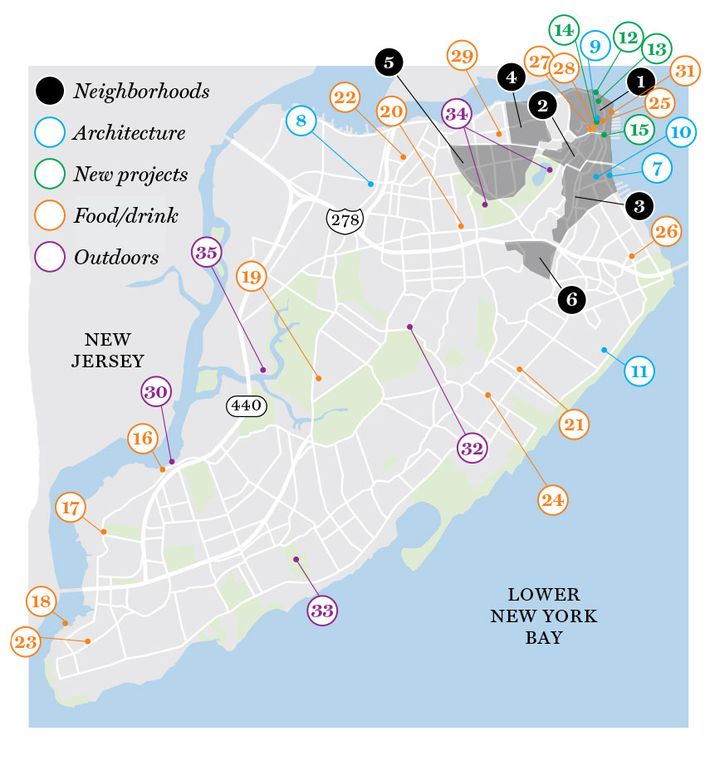 The New Apartments Feel Like Brooklyn by Way of Amsterdam
By S. Jhoanna Robledo
The Neighborhoods With All the Demand: St. George (1), Tompkinsville (2), Stapleton (3)
This convenient slice of the North Shore has some of the oldest, loveliest houses on the island: St. Marks Place in St. George has a long, uninterrupted string of Queen Annes, as do Phelps Place and Westervelt Avenue; Stapleton has one of the largest collections of intact Victorians in the city (which rarely go on the market, but when they do, tend to sell in the upper six figures). Shorter blocks and sidewalks make these neighborhoods far more walkable than many other parts of the island. They are also the most New York–y: dense, historic, and ethnically and economically diverse. Real-estate-wise, inventory is the lowest it's been in years, says Jennifer Maroni, of Gateway Arms Realty. "We're being run over by Brooklyn people," she says. "Some sellers are refusing to put things on the market because they think prices will go higher, given all the development." It's mostly houses around these parts, but there are some converted ware­houses, says Michael Gentilesco, manager of Robert DeFalco Realty, plus new condos closer to the ferry, and the occasional co-op building. Crime's still a concern, though nowhere near what it used to be.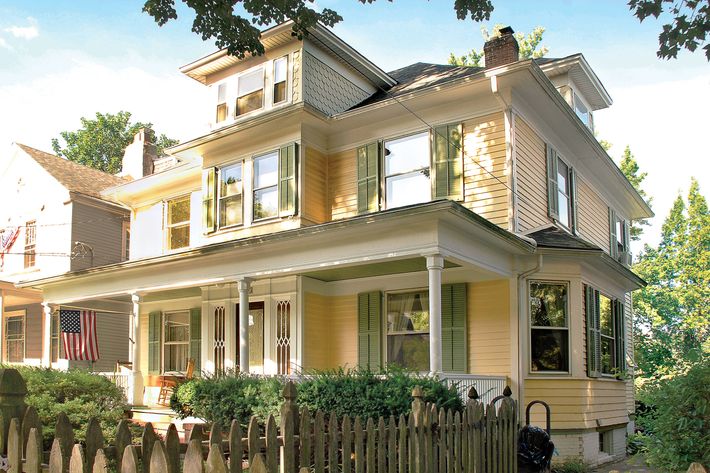 The Neighborhood With All the Culture: Randall Manor (4)
Randall Manor looks like the classic suburban dream transplanted to the middle of the city. And though it feels secluded, it's got more cultural offerings than almost any other Staten Island neighborhood, with Snug Harbor Cultural Center and its dance performances and art installations. Home prices are on the higher end of the scale for the island — a 2,750-square-foot, six-bedroom Colonial Revival is asking $750,000 (above) — but affordable considering what you could get for the same price in Park Slope or the Upper West Side.
The Neighborhood With All the Restaurants: West Brighton (5)
This slightly cheaper (think mid-$400,000s for a starter three-bedroom) and funkier pocket of the North Shore has also been seeing a lot of new arrivals. Bay Ridge taco joint Ho'Brah and Randazzo's Clam Bar (originally of Sheepshead Bay) on Forest Avenue have brought even more options to an already retail- and restaurant-rich neighborhood, and the sneaker shop Richmond Hood Company hosts rap battles and shows by local artists and commissions murals nearby.
The Neighborhood With All the Trees: Emerson Hill (6)
If Todt Hill is Staten Island's Park Avenue, next-door Emerson Hill is the West Village. It's intimate, with few sidewalks and only 100-some houses in the enclave. Plenty of doctors and lawyers have claimed their spot here, lured by the natural beauty — trees are everywhere, and the views are incredible — and proximity to the Verrazano-Narrows Bridge. It's pretty mansion-heavy, though many are on small parcels on narrow streets that meander their way to the top of winding slopes that recall San Francisco's hilliest neighborhoods.
Meet Urby (7)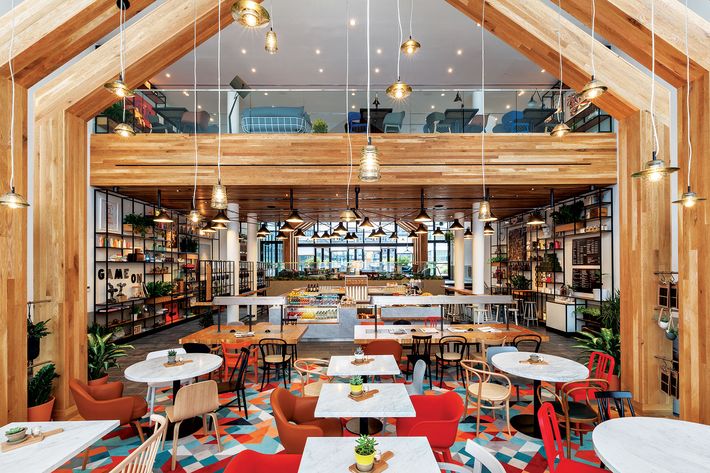 Located along the Stapleton waterfront, Urby is the island's largest new residential construction, with 900 apartments and 35,000 square feet of retail spread out over three buildings. (The area is getting esplanades, bike lanes, and wetlands, too.) Rents at Urby aren't cheap, with one-bedrooms going for $2,255 a month. The ecofriendly building was designed by the Dutch firm Concrete, responsible for the citizenM hotel chain. Amenities include an in-house chef who uses produce grown in Urby's "urban garden" that's tilled by a live-in farmer, and a restaurant run by Hometown Bar-B-Que's Billy Durney. —SJR
There's a Starchitect Police Station
In the past 15 years, the city has worked to match up Staten Island's public agencies with public-spirited designers, and the results are tightly budgeted but often startlingly fine.
By Justin Davidson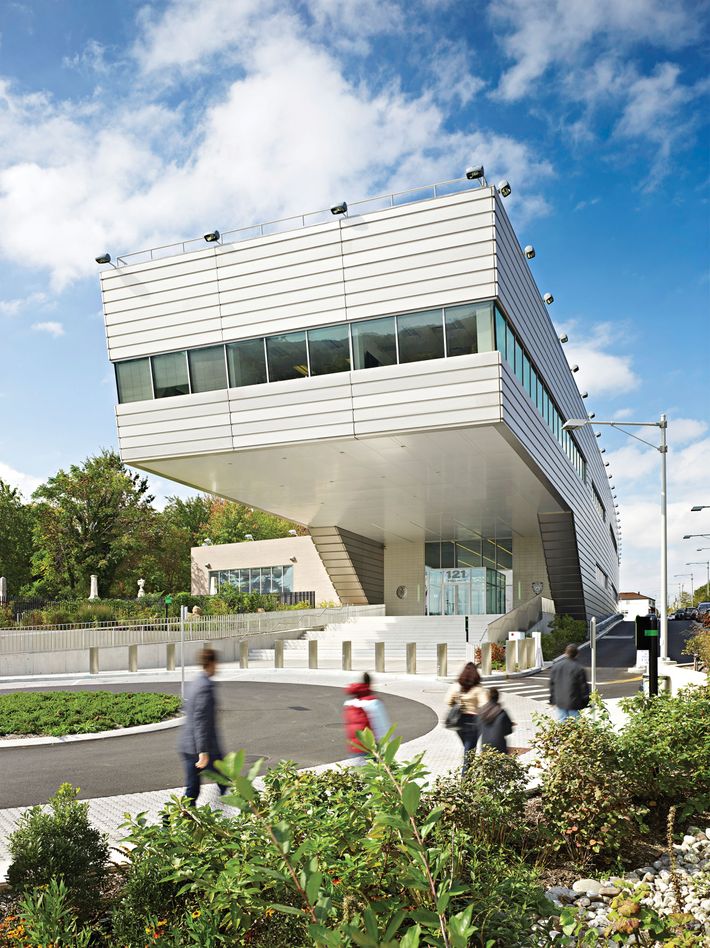 121st Precinct (8)
A building by Rafael Viñoly, whose new 432 Park Avenue tower teeters above Manhattan's midtown skyline, seems like an odd sighting in Staten Island. And his long, levitating police station juts out toward Richmond Avenue as if caught mid-takeoff. But asked about its functionality, one desk officer gave it the cop's equivalent of a four-star rave: "I've got a lot of complaints, but not about this building."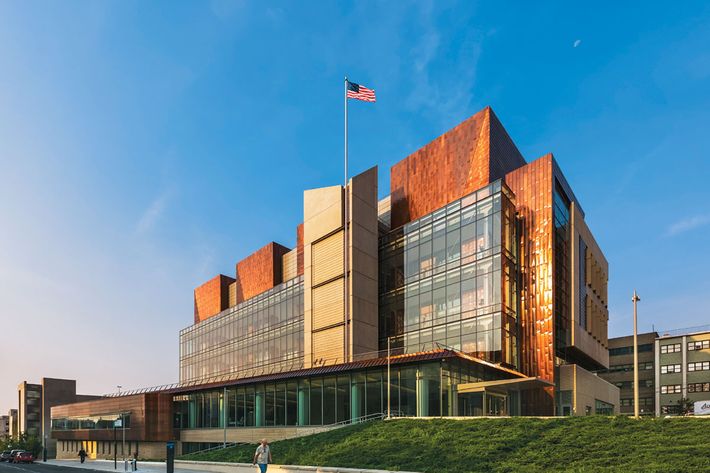 Staten Island Courthouse (9)
Sitting on a hill above the ferry terminal, the courthouse waits all day for sunset to ignite its four copper-clad towers like a quartet of torches. Designed by Susan Rodriguez, a principal at Ennead Architects,the building is at once imposing and inviting. A glass wall, facing east, promises the transparent administration of justice and offers mesmerizing views of the harbor besides. The opaque western façade grants judges and juries the privacy they need.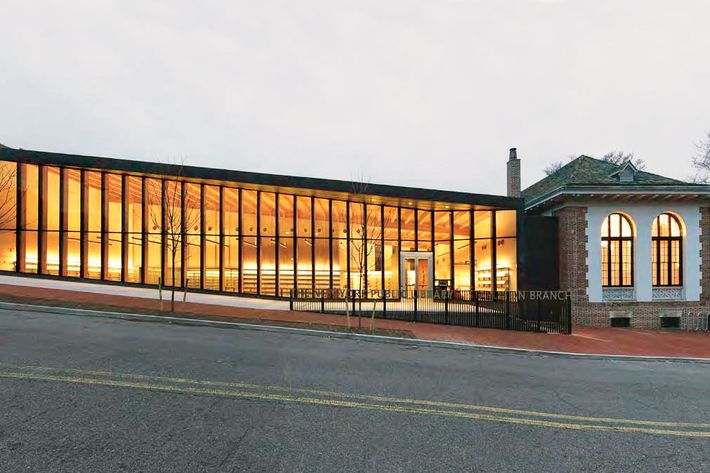 New York Public Library, Stapleton Branch (10)
A mile down the coast, the newly expanded branch library strikes a similar balance of openness and pride. There, too, a glass wall extends a general welcome. Inside, a timber frame and roof recall the kind of structure that neighbors used to erect in an afternoon of communal labor. Architect Andrew Berman has enriched the community with a refined book barn.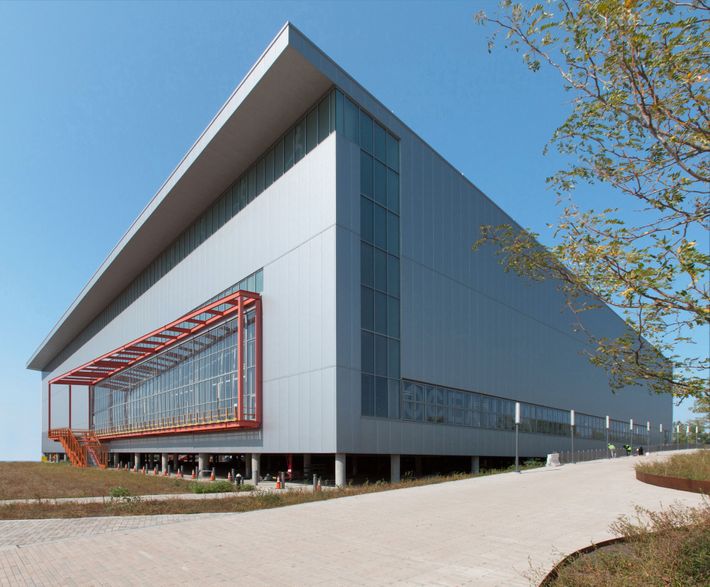 Ocean Breeze Athletic Complex (11)
The public recreation center on the east shore is hard to miss, floating above the ground level to preside over a park-in-progress. Sage and Coombe Architects have lifted the indoor track out of the way of storm surges and enclosed it in a metal shed, enlivened by bursts of orange and lime, as well as the light that flows in through the great glass wall.
Ask Anything About Staten Island
(Even your most snooty–New Yorker questions)
Is there Uber?
Yes. Nine hundred "driver-partners" operate on the island. Lyft is here too.
What's the coffee scene like?
There are a bunch of local spots, like the Ganas-commune-run Every Thing Goes Book Café (208 Bay St.) in Tompkinsville; the Fab Cup (605 Forest Ave.), a cozy coffee shop in West Brighton; and homey Beans & Leaves (422 Forest Ave.). Coffeed (7 Navy Pier Court) just opened an outlet in Stapleton's Urby, too. But Starbucks and Dunkin' Donuts are the behemoths here.
What's the difference between the North and South shores?
"I don't like Staten Island; I like the North Shore. The other part of Staten Island you could cut across and push into the Atlantic and it'd be okay. A lot of Trump supporters. That kind of mentality." —Jody Scaravella, St. George, owner of Enoteca Maria
Are there farmers' markets?
There are two: St. George Greenmarket (St. Marks Pl. and Hyatt St.), which operates every Saturday. The other, also open on Saturdays, is near the Staten Island Mall (March Ave. and Ring Rd.), but it runs only from June till mid-November.
Is there a Trader Joe's?
Yes, there's one mid-island (2385 Richmond Ave.) in New Springville. Whole Foods hasn't arrived yet, though.
What's it like to be a young person?
"I moved to Staten Island from Flatbush a year ago. A group of young folks decided that they wanted more events, and to bring more culture. Within a month you'll find five or six festivals. I'm this Jamaican girl with a septum piercing and colorful hair, and I find myself in conversations with someone who is 70-something. I love that about Staten Island." —Cardae Green, Sunnyside, waxer at European Wax Center
Where do I go for yoga?
Staten Island is full of studios offering everything from gentle yoga (Shakti Yoga at 3 Victory Blvd.) to basic flow yoga (the Compassion Center at 4116 Hylan Blvd., which also has meditation classes) to power yoga (5 Boro Power Yoga at 176 Rose Ave.).
What about SoulCycle?
No SoulCycle yet, nor a Flywheel, but there's Orangetheory (2409 Richmond Ave.).
How has Staten Island changed?
"I grew up in Stapleton in the '70s, and it's way more diverse now. Now Staten Island is suddenly on the map. We go from 130 years of decommissioned waterfront to, in less than five years, a billion dollars of development. And this is all being built in a low-income neighborhood. I do wish there were more housing opportunities. And you know Stapleton opposed bike lanes? It's like we are both urban and suburban. Staten Island just needs some oomph. Some gay people, some black people, some artists — but that's happening." —Kamillah Hanks, Stapleton, president-CEO of Historic Tappen Park Community Partnership
Do I need a car?
Probably. While the island is fairly navigable by bus, and the eastern flank has the Staten Island Railway (yes, there's a 24-hour train line that runs along the eastern side of the island all the way to Tottenville), the easiest way to get around is by car. You can always grab a Zipcar; there are three pickup spots on the island.
What is the commute actually like?
The shortest off-island commute you'll have is to the Financial District, which takes 25 minutes on the ferry. But first you have to get to the ferry. The train can add another 40 minutes to your commute. Express buses pick up throughout the borough and take an hour to get to lower Manhattan, depending on traffic and where you are on the island. By car, plan on 45 minutes at least to get to Manhattan via the Verrazano-Narrows Bridge if you live right by it.
Is there an indie movie theater?
No, but Aquehonga Cinema, a pop-up film series, hosts screenings of independent movies (like Orson Welles's F for Fake) at various venues like the Austen House museum (2 Hylan Blvd.). The UA Staten Island 16 cineplex (2474 Forest Ave.) will, on occasion, screen independent movies like Florence Foster Jenkins or Hell or High Water.
Is there an art scene?
"When my partner and I moved here in December from Bushwick, we had no idea what to expect. It became clear that amid the Sri Lankan community and the middle-class African-American community, there's also this contingent of creatives that got displaced in the gentrification push in Park Slope in the early '90s. Staten Island's history of receiving people who are priced out of Brooklyn is not new. But there's also not enough density to create a larger arts community quite yet. It's like when I lived in Bushwick after college in '99 — there's this thing of people living some place to work there. And then the cafés and restaurants arrive, then the luxury hotels. Staten Island just hasn't hit that breaking point yet." —Jen Liu, Tompkinsville, artist
What's the Seamless situation?
Decent. A recent search for St. George yielded 36 restaurants (versus Gramercy Park's 534).
Are there 24-hour corner delis?
Yes, but mainly on the North Shore.
How are the schools?
Decent. Parents will find some strong elementary-school options dispersed throughout the island, says Laura Zingmond, senior editor at insideschools.org. There are also a handful of lottery schools (like the pre-K–12 Michael J. Petrides School in Todt Hill). Staten Island Tech is one of the city's best specialized high schools. Plus, there are also a few Jewish elementary schools and dozens of parochial and private schools.
Reporting by S. Jhoanna Robledo, Belle Cushing, and Molly Elizalde
The Ferris Wheel Is Coming (12)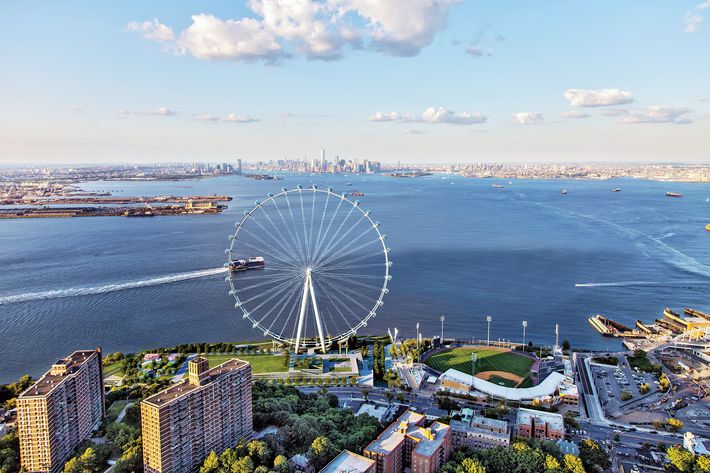 After long delays, the New York Wheel is finally rising. The hope is that it'll do for the North Shore what the London Eye did for the south bank of the Thames: resculpt an overlooked neighborhood into a nucleus of tourism and shopping. The project hopes to capitalize on the 70,000 passengers who ride the ferry every day.
Expected to open: 2018
Initial budget: $250 million
Updated estimated cost: $580 million
Height: 630 feet (about a third of One World Trade Center)
Weight: 20 million pounds
Number of pods (or "capsules"): 36
Size of each pod: 33 feet long
Pod capacity: 40 passengers
Number of "bar capsules" (where liquor will be served): 4
Number of dining pods: 2
Number of lawsuits filed about the Wheel: 3
Expected cost per ride when it opens: $30 to $35 per person
—SJR
… And So Is an Outlet Mall
Empire Outlets (13)
Many of the 125 stores expected to open at this wheel- and ferry-adjacent mall next year are upscale, including one from furrier Dennis Basso, the first outlet for him. A food hall, curated by the team formerly behind the Gansevoort Market, will add to the attraction, as will a 190-room hotel.
Lighthouse Point (14)
Cranes are on the ground for the first phase of this project, steps from the outlets. It plants a new, 12-story building that will have office space, a supermarket, and restaurants on ground level, and 115 apartments above. Some 20 percent of them will be set aside for affordable housing, on a site that once served as the U.S. Lighthouse Service Depot.
Minthorne Street Project (15)
Developer Gary Angiuli decided to create a "Williamsburg-type street" in this slice of the North Shore sandwiched between St. George and Stapleton. A microbrewery has opened, a barbecue restaurant is about to follow suit, and a British pub isn't too far behind. Graffiti artists have also been commissioned.
They Know How to Do Happy Hour Here
Shipyard saloons, 1859 beer halls, and tiki huts serving spiked peach iced tea.
By Chris Crowley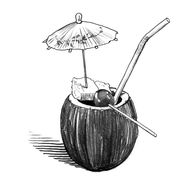 Big Nose Kate's Saloon (16)
2484 Arthur Kill Rd., Rossville; 718-227-3282
This hopping mainstay is inexplicably Wild West themed — with a vintage rifle and lit-up stained glass depicting a cowboy.
Killmeyer's Old Bavaria Inn (17)
4254 Arthur Kill Rd., Charleston; 718-984-1202
This 1859 beer hall, decorated in ye olde Bierhaus fashion, hosts local dad bands in the beer garden and feels less like New York than a country pub.
Tiki Island (18)
225 Ellis St., Tottenville; 718-948-1903
Señor Frog's in Times Square might have croaked, but the party goes on at this 10,000-square-foot party bar, which features bottle service from bikini-clad waitresses, a pool for drunken dips, and $25 oversize cocktails like vodka-spiked peach iced tea.
Jade Island (19)
2845 Richmond Ave., Heartland Village; 718-761-8080
Located in a sprawling strip mall, this mid-century Polynesian throwback (bamboo walls and thatch roofs, kitschy totem poles, illuminated pictures of tropical landscapes) is the borough's last place where you can chase your chow mein with sugary piña coladas and zombies.
The Vodka-Sauce Pizza Is Only the Beginning
Staten Island has long been an epicenter of major-league pizza activity, but the past several years have seen a slew of openings that continue to improve upon the local tradition of thin-crust bar pies with tomato and vodka sauce.
By Chris Crowley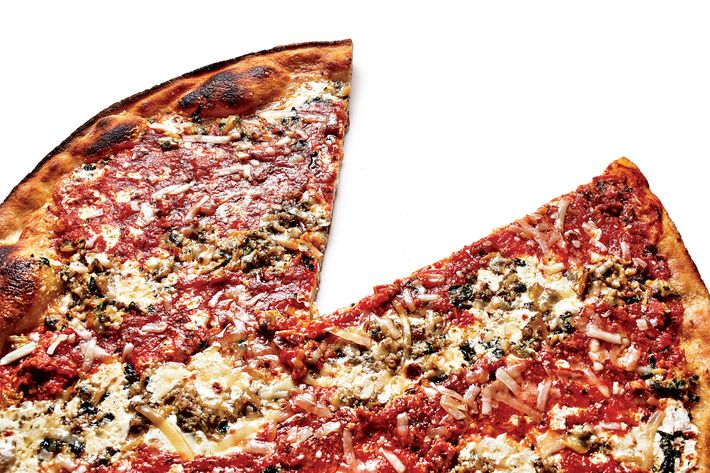 The Old-Timers
Joe & Pat's (20)
1758 Victory Blvd., Castleton Corners; 718-981-0887
The local icon hasn't lost a step 56 years in, still serving a phenomenally well-balanced pizza that's like a cross between the Neapolitan and bar pie with its crunchy, unyielding crust and islands of chewy mozzarella that remain distinct from the smooth, aromatic vodka and more traditional tomato sauce.
Nunzio's (21)
2155 Hylan Blvd., Grant City; 718-667-9647
The somewhat personality-less décor only serves to enhance the excellence of the pizza here, one of the borough's preeminent pizza destinations, where the floppy, blissfully messy slices are topped with an archipelago of stretchy mozzarella and a sauce that is just sweet enough.
Denino's Pizzeria & Tavern (22)
524 Port Richmond Ave., Port Richmond; 718-442-9401
One of the originators of Staten Island's characteristic pizzeria-pub hybrid, Denino's, which looks a bit like a 1950s social club, shows less restraint when loading on the mozzarella and fresh garlic for its famous, cheesy clam pizza.
The Newcomers
Reggiano's Brick Oven Pizza (23)
7339 Amboy Rd., Tottenville; 718-966-6610
Reggiano's looks like an average suburban trattoria, but it's one of the bright young stars of the borough's scene. Its pizzas are topped with thinly layered homemade mozzarella that comes out freckled. The vongole is a standout; it's available with tomato sauce, or as a sauce-less, sensational white seasoned with garlic and basil, that tastes pesto-y and like a supercharged California Pizza Kitchen pie.
Pizzeria Giove (24)
278 New Dorp Ln., New Dorp; 718-286-0635
The brothers behind this spot come from local pizza royalty — their father once ran Port Richmond's classic Brother's before absconding to Italy — which might explain the velvet rope that guards the dining room and the impossibly thin but moist crust that serves as the vehicle for a litany of toppings, many with stracciatella cheese. Try the lemony Millennium, topped with wisps of cooked ham and arugula.
Pier 76 (25)
76 Bay St., St. George; 718-447-7437
An offshoot of Joe & Pat's, this family-friendly sports bar and takeout shop, an essential pit stop before a ferry ride or Staten Island Yankees game, does right by its legacy — see the vodka square, which with its blistered mozzarella and effusive sauce can compete with the best in town. Its blue-cheese-optional buffalo-chicken slice will convert even the snobbiest palates.
And Where to Try the Borough's Other Famous Cuisines
For Red Sauce
Da Noi (26)
138 Fingerboard Rd., nr. Tompkins Ave., Fort Wadsworth; 718-720-1650
Staten Island's blood runs red sauce, and this outpost of the pasta palace near the Verrazano-Narrows Bridge hits all the notes. Snazzy Italian posters on the walls, white tablecloths, and a baroque red bar and wainscoting set the stage for platters of veal chop and linguine with white clam sauce.
For Sri Lankan
San Rasa (27)
19 Corson Ave., nr. Daniel Low Terrace, St. George; 718-420-0027
Staten Island is the hub of Sri Lankan immigrants in New York, and there's no better place to eat the island nation's fiery cuisine than San Rasa, with exemplary versions of classics like lamprie: steamed rice, curries, and other fillings wrapped in banana leaf and baked.
For German
Nürnberger Bierhaus (28)
817 Castleton Ave., nr. Pelton Ave., West Brighton; 718-816-7461
Deep in Budweiser country, this friendly restaurant, decked out in German paraphernalia (steins, a shield with a coat of arms) supplemented with NYPD medals, offers a broad, pilsner-heavy roster of beers on tap and by the bottle, plus juicy sausages and soft, salty pretzels with potent mustard.
For Mexican
Taqueria Gallo Azteca (29)
75 Victory Blvd., at Monroe Ave., St. George; 718-273-6404
Nights at this makeshift taqueria on a hilly corner of St. George can feel frenzied, the owner hustling around the kitchen reaching for a bucket of salsa verde while cooks warm tortillas, but other tacos in the borough can't compete with the blistering carne enchilada and crispy carnitas.
There's a Wonderfully Strange Ship Graveyard (30)
By Alexandra Kleeman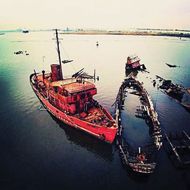 When I moved to Staten Island a couple years ago, it comforted me to see the blackened stubs of old pillars poking out of the harbor where the docks used to be, the overturned tree trunks and scrap metal. I had lived in Manhattan and Brooklyn for years, and on Staten Island — where there's less pressure to erase and replace — oddities can linger and even flourish. There's no better example of this than the Staten Island boat graveyard, a wetland area on the North Shore that was once home to hundreds of retired ships, broken-down and rusting in shallow water — most of them beyond salvage, toxic from years of use. Here, old tugboats that have aged out of their occupations lie fossilized among collapsing houseboats, gutted ferries still brightly orange in color, and the skeletal remains of massive ironclad ships that sit eaten away by rust, jagged outlines of their seafaring selves. Today, the ships that remain are owned by a recycling company that has fenced off the best access points with 12-foot-high sheets of steel — but there are still ways in for visitors with waterproof boots and a sense of adventure. Head away from the road, tramping through the high grasses and marshy turf to find a strangely peaceful scene: egrets stepping through the shoal, as several dark, ravaged maritime carcasses loom in the background, sinking deeper into the silt year after year.
But It's Not All Tiki Bars and Ferris Wheels
Want to rile a Staten Islander? Broach one of these topics.
By Nick Tabor
The Drug Crisis
Heroin and painkiller addiction has mushroomed on Staten Island, and overdose deaths this year could add up to 100 or more. Mayor Bill de Blasio just allocated $3.66 million to help fight the epidemic, and Cuomo signed a law limiting the number of pills doctors can prescribe at a time.
The Eric Garner Trial
Two years later, Garner's relatives are still waiting for results from a federal investigation into whether is civil rights were violated. Meanwhile, residents of Garner's old neighborhood, Tompkinsville, have said cops are spending less time patrolling their streets because of the tension.
Political Corruption
First there was the island's tax-evading congressman, Michael Grimm, who was just released from jail. And this summer, five cops from the borough have been called out in the FBI's probe into NYPD corruption. Investigators say at least two of them were taking bribes.
Trump Supporters
The Donald won more than 80 percent of Staten Island's GOP vote in the April primary. His supporters are concentrated on the South Shore, while the rest of Staten Island is more liberal. It figures that someone recently torched a Donald Trump sign on a North Shore front lawn.
You Can Get Really Drunk (or Married) on the Ferry (31)
According to people who've done both.
As told to Kaitlin Menza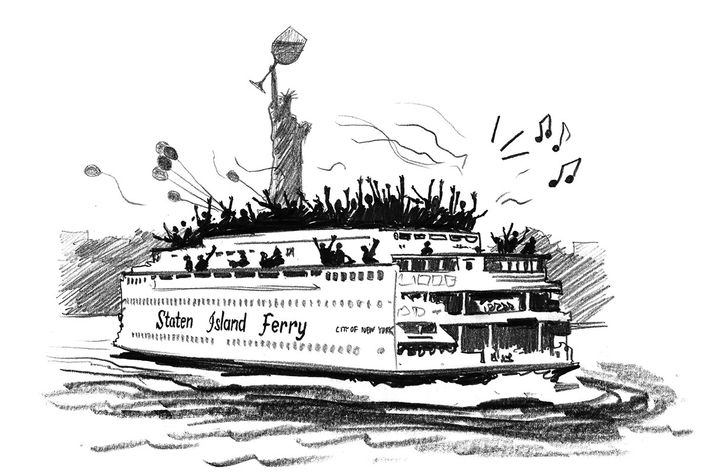 Have an After-Hours Party
"It was like 1 a.m., and my friends and I, we didn't want to go home. I had an idea. I went to the liquor store, bought tons of booze, then went to a deli and got sandwiches. We got into a cab in Manhattan, and my friends still didn't know what was going on. I asked the driver to take us to South Ferry. We mixed vodka into Sprite bottles. You can bring whatever you want onto the ferry, and they sell beer and wine in a bar. Don't go crazy. You will get in trouble if you're being loud and obnoxious. Remember that some people are just, like, traveling home." —Mark Rosenberg, 33, Washington Heights
Have a Wedding Party
"My fiancé, Brian, and I started riding the ferry and getting the logistics: counting seats, timing the trip. There are three models of ferry, and you never know which one you're going to get. We talked to some ferry workers and they were like, 'Nope, you can't do it.' On the day of, we had friends who ran ahead and sectioned off seating and made sure no one pushed Grandma. We kept the ceremony short so there'd be time to have our 100 guests walk onto the back deck, with the view of the Manhattan skyline. Then we had some friends sing Billy Joel's 'The Longest Time' a cappella. All the ferry workers watched and took photos. We got a shout-out from the captain." —Akemi Martin, 34, Gowanus
You Might As Well Be in the Catskills
With all the lake fishing, hiking trails, and osprey sightings.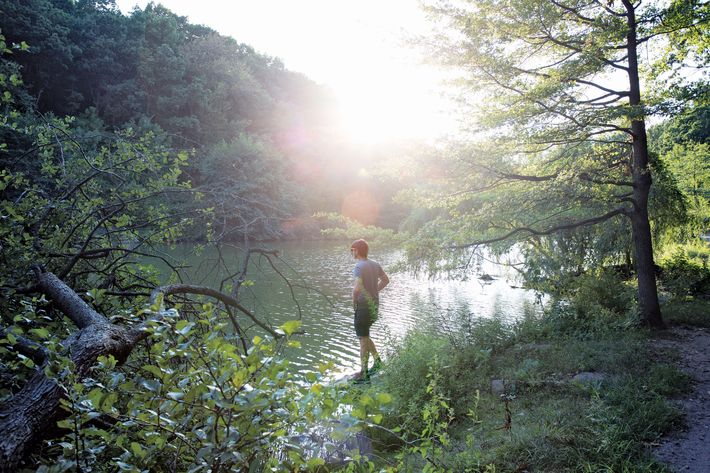 Run a 10K in the Staten Island Greenbelt (32)
This 2,800-acre swath wends its way with 35 miles of trails through many of the borough's neighborhoods. Notable points include Moses' Mountain, the best spot for a 360-degree panorama, and Pump House Pond and Hourglass Pond, where, during the fall, the foliage is dramatically reflected in the water. The Greenbelt is beloved among cross-country runners (and skiers, too); there's a 10K High Rock Challenge that takes place there every spring.
Heron-Watch in Blue Heron Park Preserve (33)
This 222-acre park may be bisected by the fairly busy Poillon Avenue, but somehow it still manages to feel like the deep wilderness. Tucked into the suburban neighborhood of Annadale, its nature center hosts naturalist-led walks on its densely treed trails on weekends and has a library perfect for young birders. (It also offers evening hikes and overnights that are popular among locals.) There are actually six kettle ponds here; the lily-pad-covered Spring Pond is the closest, but Blue Heron Pond is equally photogenic. As the name suggests, you can spot blue herons here, as well as ospreys and wood ducks, and many pretty dragonflies.
Golf in Silver Lake Park and Go Fishing in Clove Lakes Park (34)
Silver Lake Park may be more manicured than the Greenbelt, with its paved walkways, street lamps, and graceful iron fencing, but it's worth a visit nonetheless for a peek at its reservoir that, from some vantage points, feels more New Paltz than New York. The reservoir is arguably more scenic than Central Park's, though about a quarter of a mile shorter to circle for runners; it also has an 18-hole golf course. Adjacent Clove Lakes Park has plenty of walking trails. You can even cast a fishing line on Clove Lake itself.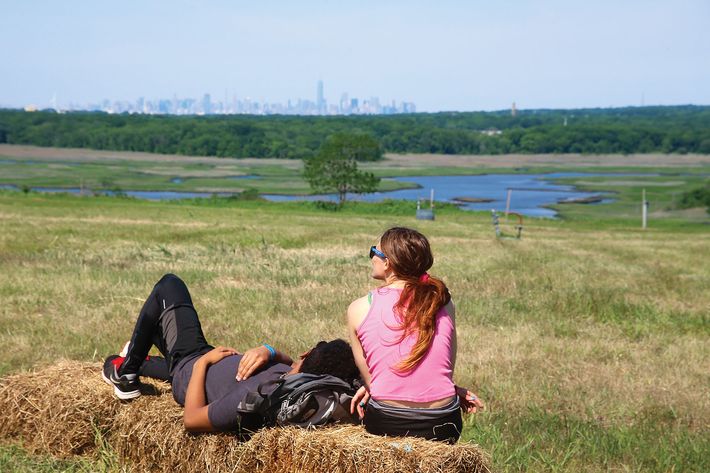 Walk on Garbage in Freshkills Park (35)
Fifteen years after Fresh Kills saw its last garbage-filled barge ride up to its shore, the city's Parks Department is turning trash mounds into trails. Its entire 2,200 acres are returning, after a fashion, to what the site used to be: a grand park. Fresh Kills was once largely made up of brackish marshes and creeks, and the current plan will restore a wetland ecosystem hospitable to flora and wildlife; add a canoe, boat, and kayak launch; landscape mounds into rolling meadows; install horseback-riding and hiking trails; plus build recreational spaces for ball games, golf, archery, and more. One thing at a time: At the moment, a playground is open, as are the soccer fields and a greenway on the outer rim. In three years, another 21 acres will be made over. —SJR
Staten Island Has New York City's Only …
Liberian Market: (bet. 140 and 160 Park Hill Ave., Park Hill)
Sonic Drive-In: (148 Page Ave., Tottenville)
Indoor Skate Park: 5050 (354 Front St., Stapleton)
Viking Bread: Holtermann's Bakery (405 Arthur Kill Rd., Great Kills)
Frank Lloyd Wright House: The Crimson Beech (48 Manor Ct., Lighthouse Hill)
Members-Only Golf Course: Richmond County Country Club (135 Flagg Pl., Todt Hill)
Outdoor Paintball: Cousins (2727 Arthur Kill Rd., Charleston)
Used Bookstore and Café Run by a Commune: Every Thing Goes Book Café (208 Bay St., Tompkinsville)
Lakeside Bolete Mushrooms: "In High Rock Park, there's a little path that goes down to the lake where I hunt for boletes. They're tasty when fried with garlic and parsley." —Lara Vapnyar, writer
Reporting Belle Cushing and Hilary Reid
*This article appears in the September 5, 2016, issue of New York Magazine.