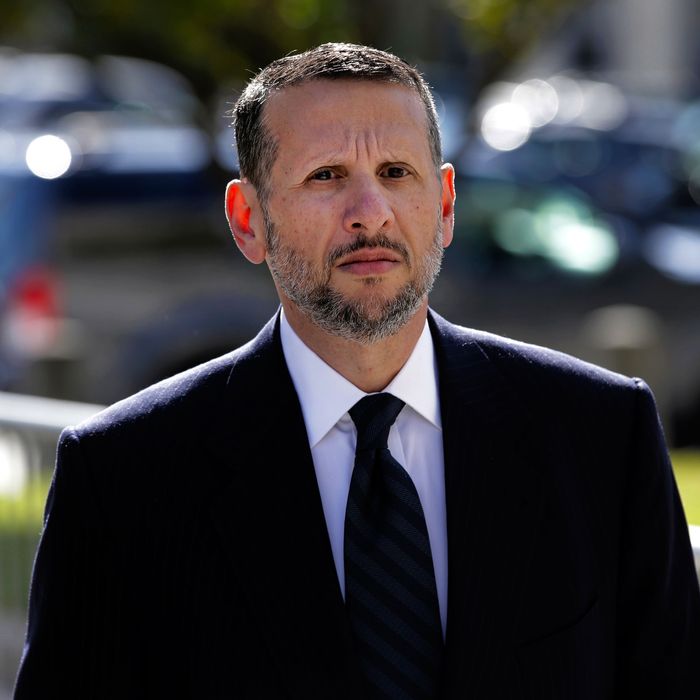 Wildstein
Photo: Peter Foley/Bloomberg via Getty Images
After years of silence and mystery, David Wildstein, the confessed mastermind of George Washington Bridge scheme, finally took the stand this afternoon in the trial of two former colleagues from Governor Chris Christie's administration. But his testimony, at least to begin with, was as notable for what it indicated about two individuals who were not in the courtroom, Christie and his former campaign manager, Bill Stepien—both of whom are now top figures in Donald Trump's presidential campaign—as it was for anything he said about the actual defendants.
In the first of what is expected to be several days of testimony, Wildstein recounted how—from as early as a year after Christie first won election—the governor's administration began organizing to woo local Democratic officeholders to cross party lines and endorse him. Key to this effort, Wildstein said, was the use of the resources of the Port Authority to "do things for Democrat officials that would potentially put the governor in a more favorable position." Though technically an independent agency, Wildstein described the Port Authority as functioning as something akin to a patronage-dealing arm of the governor's office, using its power over things like tolls, public transit, commerce, construction projects—and its patronage jobs—to woo targeted officials.
Stepien, then a New Jersey state official, was the primary architect of this plan, but Wildstein testified that "there were others" who were directly involved.
"What others?" asked prosecutor Lee M. Cortes Jr.
"Governor Christie," Wildstein replied
Stepien is currently working for Trump as his campaign's national field director, while Christie is currently a top adviser who is planning his potential presidential transition. A third Trump campaign employee, Matt Mowers, also testified at the trial today, prior to Wildstein. A former employee of Stepien—and later defendant Bridget Kelly—within Christie's Office of Intergovernmental Affairs, Mowers described drawing up a list of Democratic targets, mayors who were singled out for special favorable treatment. In January 2013, one of Christie's aides sent out an email saying: "Team, we have a 'green light' to begin trying to secure [Democratic] endorsements for the campaign." Near the top the top of a list of "approved targets" below was the name of Mayor Mark Sokolich of Fort Lee—the town that would ultimately end up being paralyzed by a traffic jam when its local access lanes to the bridge were shut down.
For years prior to the shutdown, Mowers testified, Sokolich was wooed with a variety of inducements, including invitations to parties at the governor's Drumthwacket estate, a family tour of the World Trade Center, a gift of steel salvaged from the Twin Towers after September 11, and tickets to a New Jersey Devils game. (Mowers testified that the mayor also asked Christie for a personal recommendation letter for his son, who was applying to Rutgers, but was turned down.) When the Port Authority agreed to finance a shuttle bus for the residents of Fort Lee, Stepien wrote Mowers an email, urging him to make sure Sokolich didn't forget the governor had "approved" the valuable service. All these interactions were duly noted in a Google Docs spreadsheet, which rated the mayors on a 1 to 10 scale, meant to reflect their likelihood to endorse Christie's reelection.
Sokolich ultimately turned down the governor's overtures, though, citing his concern that crossing party lines would hurt his private business as an attorney specializing in zoning issues, for which he had contracts with several Democratic-controlled municipalities. Mowers testified that Kelly called him to check on the mayor's status twice in August and September 2013—just before and during the traffic jam.
The question of when, how and why the governor's allies allegedly shifted their approach from courtship to revenge-seeking is a question that is likely to be answered in the coming days by Wildstein. He walked to the stand with a purposeful gait, looking a bit hunched; he has lost weight and looks noticeably older than he did in photos from his tenure at the Port Authority. Earlier witnesses in the case have described him as Christie's "enforcer" at the Port Authority, a description Wildstein more or less concurred with as he introduced himself to the jury. "My responsibility was being very aggressive in making sure things got done," Wildstein said, speaking with a clipped, nasally New Jersey accent. "Being the bad cop."
Although Wildstein has a long history with Christie, having known the future governor since they attended Livingston High School together in the 1970s, the witness testified that he could only recall two occasions when he had talked with him one-on-one on the telephone. Once was in 1977, when they were both teenage volunteers on a Republican campaign and he and Christie were planning to travel together to a campaign event—"It was his first rally," Wildstein recalled—and the other in 1995, when he was working as a political consultant and Christie was running for the state assembly. More important than his personal connection to the governor, he said, was his political connection to Stepien, as well as another top political strategist, Mike DuHaime.
Wildstein said that he had "a very close personal friendship" with Stepien, and that he and DuHaime were two of only around 10 people who knew his well-kept secret: that for years, he had operated a highly influential New Jersey political blog, writing under the pseudonym of "Wally Edge." (Edge was a 20th century governor and publisher, and Wildstein picked the name, he disclosed, because he knew one of his descendants.) Wildstein testified that he did not tell Christie the secret—but it is difficult to imagine that he didn't know, considering how close he himself was to Stepien and DuHaime.
After Christie's election, Wildstein recounted, he decided to give up his secret blogging identity—in part because he thought it would be impossible to maintain his "cloak of anonymity" while covering Governor Christie, given his relationships with Stepien and DuHaime. Around this time, he said yet another political friend, defendant Bill Baroni, came to him with a job offer at the Port Authority, where Governor Christie had just placed Baroni as New Jersey's highest-ranking staff appointee. Baroni offered him a job as his second-in-command, and, after some initial resistance, Wildstein said that he "realized that this could be a fascinating opportunity."
Prior to the trial, friends of Wildstein and Baroni expressed great sadness over the fact that the two men have turned on one another. "I would say Mr. Baroni was one of the closest friends I've ever had," Wildstein testified. They met in 1999, when Baroni was working as a campaign counsel for a congressman named Bob Franks, whom Wildstein advised as a political consultant. (Stepien and DuHaime worked for Franks, too.) Wildstein recalled knocking on doors with Baroni when Baroni ran for public office. Wildstein told Baroni he was Wally Edge shortly after he started his site, Wildstein said, and he continued to advise Baroni on campaigns, even as he covered them on his blog.
Baroni ultimately became a state senator. But when Christie hired him to work at the Port Authority, Wildstein advised his friend that his job as the governor's appointee would be different. Wildstein said he would have to operate according to "the one constituent rule," a term that the two men would use often at the Port Authority. "The one constituent rule meant that the only person who mattered was Governor Christie," Wildstein testified. "If it was good for Governor Christie, it was good for us."
Baroni was no one's idea of a bureaucratic warrior—a garrulous pol, he has had a friendly smile attached to his face throughout the trial—and Wildstein testified that Baroni hired him hoping to put the skills he had honed as a blogger to use. He said they talked in an intimate shorthand: if Baroni wanted something researched, he would ask Wildstein to "Wally" it. Referencing a feature from the blog, they would refer to politicians they liked as the "Winner of the Week." In the instance of one email, shown by prosecutors, they referred to a Republican state assemblyman who angered them as the "Schmuck of the Week." It was Wildstein's job to cause pain for those who strayed from Christie's agenda. "Mr. Baroni didn't enjoy playing the bad cop," Wildstein said. "Mr. Baroni liked being the good cop. He felt that my particular kind of personality, which wasn't always entirely pleasant, would be helpful to him."
At least in the beginning, though, Wildstein's role at the Port Authority was to make Democratic officeholders like Sokolich happy. The prosecution closed the day by showing a series of emails describing various inducements that the authority distributed to targeted officials—personally approved in each instance by Kelly. One such program, which Wildstein said he devised, distributed flags that were flown over the World Trade Center site. He described overseeing an assembly-line process on September 11, 2011—the 10th anniversary of the attacks—to make sure that Christie's office had 100 flags to give out to targeted municipalities. Stepien and Kelly oversaw the effort, Wildstein said.
In another email exchange displayed by prosecutors, Wildstein described giving a tour of the World Trade Center site to another targeted mayor.
"I'll be prepared to talk about other things in the Port Authority goody bag," Wildstein wrote Kelly.
"I like goody bags!" Kelly replied.
Kelly was Stepien's deputy, and took over the Office of Intergovernmental Affairs after he left the state payroll to run Christie's campaign in 2013. She was also dating Stepien around this time, and prosecutors showed a series of emails that were meant to show she enjoyed a warm working relationship with his friend, Wildstein. In one, the two discussed interviewing Kelly's father for a patronage job at the Port Authority.
"Don't hold me against him and my craziness," Kelly wrote, adding a smiley face.
"Do you presume to think you can lecture me on craziness?" Wildstein replied. "Frankly I think that the qualities critical to this business are the dead-to-me gene and the insanity gene."
Under questioning, Wildstein explained the reference to insanity by saying: "I meant that my belief was that in politics, and New Jersey politics, we were all a little crazy." As for the dead-to-me gene: you can bet we'll be hearing much more about that next week.