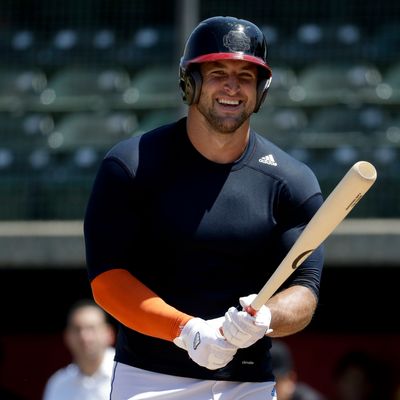 The New York Mets, who drew even with the St. Louis Cardinals in the race for the National League's second wild-card spot Wednesday night, made a splash in free agency this morning, signing former Jets quarterback Tim Tebow to a minor-league deal. He'll report to the team's instructional league in Port St. Lucie.
The signing comes a little over a week after Tebow held a showcase for MLB scouts, where he showed off baseball skills that had been dormant since he was in high school. The reviews were not great. Tebow showed flashes of power, but did little else worth getting excited about. And when tasked with facing live pitchers, he crumbled. Still, Tebow proved that he remains an elite athlete with a potential upside, even if, at 29, he's ancient in baseball terms. As many as eight teams were considering bringing him in.
The Mets won and are risking little by signing Tebow. If he flames out, no one will be surprised. This is a guy who couldn't cut it in the NFL after winning the Heisman. But if he succeeds, the Mets will reap the rewards. Either way, they'll probably sell a few more jerseys.
But it's Tebow who's the big winner here. Even if he really thinks he could make it in the Majors, that's never what his pursuit of baseball was about. Tebow is a master at marketing himself, and by signing with the Mets he's ensured that his pretty face will be splashed all over the sports pages in the nation's biggest media market. This is a guy who signed an endorsement deal with Adidas the day before his MLB showcase, at a time when his only gig was talking about college football on TV. He knows how to get paid.
Speaking of which, did you know Tebow has a book coming out in October?