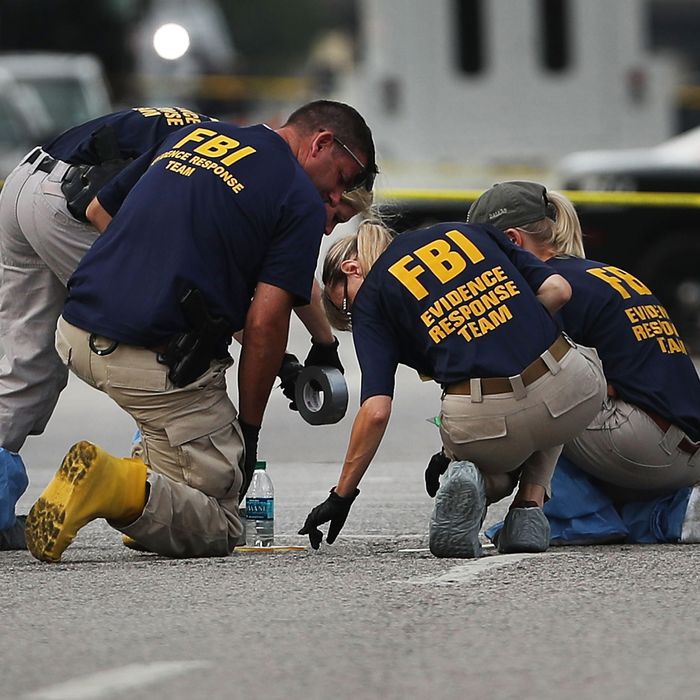 Photo: Spencer Platt/Getty Images
The morning of the first general-election debate brought bad news for America and good news for Donald Trump: The murder rate in the United States rose by 10 percent last year, while the total number of murders increased by nearly 11 percent — the highest single-year increase since 1971, according to the FBI's 2015 crime data.

What's more, a new report from the Brennan Center suggests that this increase was no one-year blip. Using midyear data from police departments across the nation, the legal institute estimates that the homicide rate will rise 13.1 percent in America's 30 largest cities in 2016. By the end of this year, the report suggests that the national murder rate will have increased 31.5 percent since 2014.

These are very useful statistics for a "law and order" candidate, allowing empirical heft to Trump's narrative of national decline. But a proper understanding of America's homicide problem requires seeing the crisis as a local affliction, one falling hardest on the communities least interested in the GOP nominee's draconian agenda.

Roughly 1,726 more Americans lost their lives to homicide last year than did in 2014. At least 900 of the additional victims were African-American men. The vast majority of these men were killed by firearms — gun homicides accounted for 1,500 of 2015's additional murders.

The grotesque racial disparity in the homicide data reflects the geographic concentration of America's murder problem. An early analysis of 2015 homicide data by the New York Times found that just seven cities — Baltimore, Chicago, Cleveland, Houston, Milwaukee, Nashville, and Washington — produced half of the entire year-over-year increase in big-city homicides.

Nearly half of the projected increase in 2016's murder rate is attributable to Chicago, according to the Brennan Center's report. And half of the 31.5 increase in homicides between 2014 and 2016 were committed in the Windy City, Baltimore, and Houston.

Within these municipalities, homicide is concentrated in areas afflicted by poverty and racial segregation. In 2015, Chicago saw 488 homicides — the most of any city in the nation. But ten of the city's neighborhoods had homicide rates of zero last year — while the neighborhoods of Burnside and Fuller Park each suffered murder rates in excess of 100 per 100,000 residents, according to the Trace, a digital news outlet that focuses on gun crime.
In the rest of the country, crime remains near historic lows. In 2015, property crime hit its lowest point since 1966, and, despite the spike in big-city homicides, the overall violent-crime rate was still 15.5 percent lower than it was in 2006. We do not have a national crime problem fueled by the president's weakness, love of refugees, and contempt for our men in blue, no matter how confidently the Republican nominee suggests otherwise.

The truth is, most Americans live in a nation where the chance of falling victim to violent crime is near its lowest point in modern times. But some Americans, particularly poor, urban-dwelling people of color, live in a very different country — one where the prevalence of violent crime is rising swiftly toward the highs of a bygone era.
There's a lot at stake in appreciating this nuance. The combination of scary top-line statistics and local news coverage that follows the "if it bleeds, it leads" imperative — and Donald Trump's demagogic appeals — threatens to make tough-on-crime politics appealing again.
But our homicide problem is concentrated in some of the most heavily incarcerated communities on planet Earth. To be sure, more effective law enforcement is needed in these neighborhoods — Chicago's abysmal homicide clearance rate emboldens offenders and enables retaliatory violence to proliferate. But sentences for violent crime in America are already aberrantly high, and there is little evidence that such draconian punishments deter crime or facilitate rehabilitation. Which is to say: Increasing the certainty that violent criminals will be punished for their crimes is critical to deterrence; increasing the severity of the punishments they receive is not. Despite this fact, anti-crime politics in the United States have often focused on the latter.
Calls for heightened enforcement of low-level offenses could prove similarly counterproductive. The Justice Department's recent report on the Baltimore police found that the department's "zero tolerance" approach to policing petty crime produced routine violations of residents' civil rights. Effective policing requires community trust and cooperation. Systematic abuse and discrimination is unlikely to encourage such things.
But the Republican nominee thinks otherwise. Last week, he called for Chicago to subject residents to stop-and-frisk policing — a policy that sits in tension with Trump's belief that public safety can be improved through higher gun-ownership rates.
In sum, the new FBI data confirms that the murder rate is moving in the wrong direction in urban communities where there is concentrated poverty, racial segregation, easily accessible firearms, and low homicide clearance rates. We need an anti-crime agenda that reduces the number of neighborhoods defined by those conditions. The law-and-order candidate hasn't offered one.