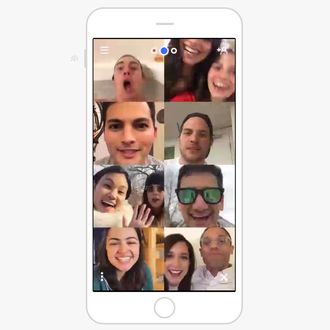 Remember Meerkat? The livestreaming app that took South by Southwest by storm approximately 100 billion years ago (e.g., 2015)? You probably don't, because it was quickly usurped by more well-armed competitors, Twitter's Periscope and Facebook Live, as livestreaming video became Silicon Valley's latest obsession.
While Meerkat faded, the Verge reports, its creators have spent the last year building up another app in secret — one focused on private video chat — and seeding it in college campuses across the country. Private video with friends is the concept behind Houseparty, an app that allows you to video-chat with several friends at once. Even in stealth mode, it's already at one million users.
Houseparty is intuitive and fun to use (unlike its closest rival from a feature point of view, Google Hangouts). But it's also successful because its makers understand what's actually appealing about live video. Ben Rubin, Meerkat's CEO, is also the first leader of a live-video project to admit that the burgeoning format's current "one to many" public mode of broadcast isn't working. On Facebook, it's being pitched as a way for brands and celebrities to seem more accessible, while the utility to individual users is barely justified, except for moments of breaking news. Rubin told the Verge:
"We don't see the category of live media breaking out as we envisioned it last summer … Everybody felt like this is going to be the next big thing. And we did scratch the surface. But what we ended up with is that live is a great feature on top of an existing network. It's not quite yet in a place where it can justify a whole new medium and a whole new set of behaviors where everyone is doing it on a daily basis."
There is a growing aversion to the default-public web, most noticeably catalyzed by Snapchat, a service meant for messaging and temporary ephemera that leaves little trace (how much it logs on the back end is anyone's guess).
This is, in all likelihood, where live video is heading. Unless everyone wants to be the star of their own regularly hosted show, the format will revert to what it's always been for, killing time and gossiping with friends out of public view.