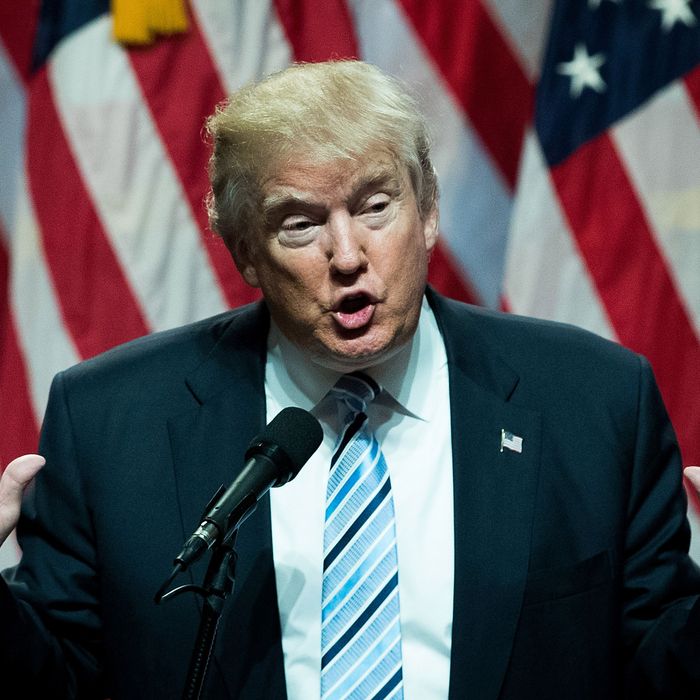 Yeah, it's scary for liberals to think of this man becoming president. But, in the longer run, it could be just what the veterinarian ordered for the Donkey Party.
Photo: Drew Angerer/Getty Images
After weeks of feeling more and more confident about the odds of keeping Donald Trump far from the White House, liberals awakened the day after Labor Day to a CNN/ORC poll showing the mogul moving into a two-point lead over Hillary Clinton among likely voters.
If this poll turns out not to be an outlier, panic about the possibility of a Trump administration will sweep through the bicoastal blue heartland like a doomsday plague. It is already lurking just under the surface: A church friend of mine here in California reports a recurring dream where Trump is trying to kill her, most recently by throttling her with his own short-fingered hands.
But there's a silver lining for Democrats in the event of a Trump victory, assuming, of course, he doesn't provoke a thermonuclear war or begin tossing his "enemies" into jail. It would likely turn out to be just what the veterinarian ordered for the ailing donkeys struggling to win office down-ballot, especially in midterms.
The Obama administration has been accompanied by a vast and deep resurgence of Republican strength in the U.S. House, governorships, and state legislatures. A big part of that is the simple fact that the party that does not occupy the White House holds a regular advantage in non-presidential elections.
That is also true farther down the ballot, it seems. A new study by a professor at St. Louis University suggests that the most important variable in state legislative elections is the job approval rating of the president of the United States. If it's low, as it was for Barack Obama in both 2010 and 2014, the president's party typically gets pasted in both congressional and state elections.
There's another variable that has recently come into play: a Republican advantage in midterm turnout due to the GOP's tight alignment with demographic categories of voters that since the beginning of time have tended to participate robustly in non-presidential elections (and the Democratic Party's equally tight alignment with groups that do not). This produced a wind beneath the elephant's ears in 2010 and 2014. But it's all the more reason that Democrats need something new to go for them in the midterms — you know, like a wildly unpopular Republican in the White House.
If a Trump administration is the rolling ball of madness most of his detractors expect, Republicans (who will already be overexposed by their 2010 and 2014 gains) in the U.S. House and at the state level could be swamped by a combined correction and backlash. Youth and minority turnout could break records. A Republican White House, in fact, could be the one thing that might prevent a Republican tide in Senate races, thanks to an insanely pro-Republican landscape. Then Democrats would be set up for a coup de grâce in 2020 when President Trump is up for reelection — a year where the state-level results will have a profound effect on the future shape of both Congress and state legislatures via the decennial redistricting process.
So cheer up, liberals. Yes, the idea of a President Trump is disturbing. But if you can survive the trauma of watching the great orange ogre assume the powers of the presidency, the political climate could improve almost immediately.