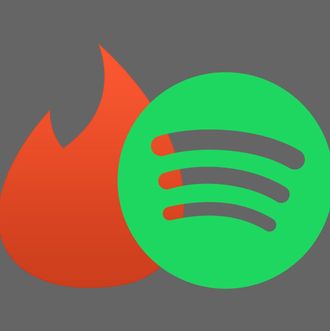 In case your Tinder profile is lacking in pizzazz (read: you describe yourself as "fluent in sarcasm" or your profile picture features you holding a fish you just caught), the dating app announced today that users will soon be able to sync their profiles with Spotify. Now, Tinder users can swipe based on people's music preferences.
Tinder users will be able to see the top songs of potential matches before swiping. (Bumble introduced a similar partnership with Spotify over the summer.) And, Tinder explained in a blog post, "if you have your Spotify account connected, you'll see the artists you have in common with each person." You'll also be able to select an "anthem" to display on your profile. (Pro tip: You can never go wrong with Annie Lennox singing "Into the West" from 2003's The Lord of the Rings: The Return of the King. Who could possibly swipe left on that.)
Alternatively, you can opt out of this fun new feature and keep swiping the old-fashioned way: based solely on the emoji in someone's bio. And also how hot they are.