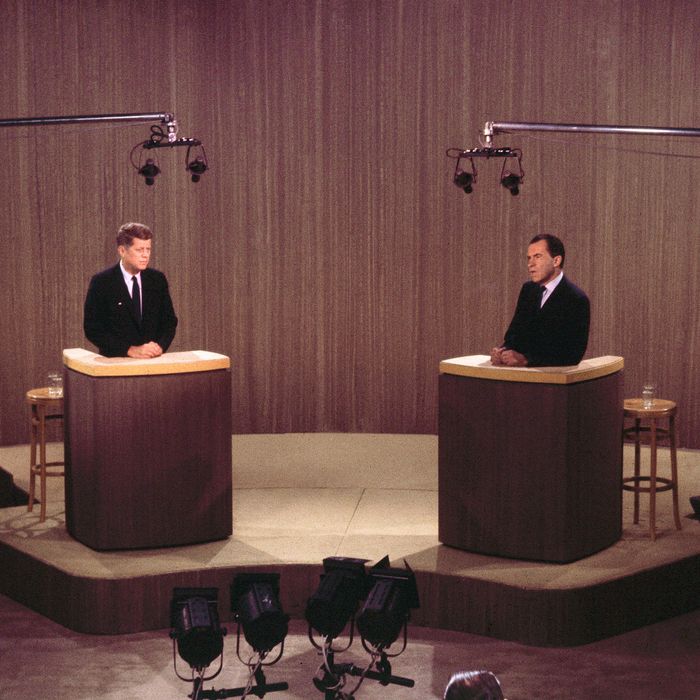 Three out of five voting-age Americans watched the first Kennedy-Nixon debate.
Photo: Bettmann/Getty Images
You have probably heard that tonight's first presidential general-election debate between Hillary Clinton and Donald Trump will set a new record for viewership of such events. That is close to a certainty, unless the estimates are far off. According to Nielsen figures quoted at Sabato's Crystal Ball, the record was set back in 1980, when 80 million Americans watched the first and only Reagan-Carter debate. (The third-largest audience was in 2012, with 67 million first-debate viewers.) More than 100 million people are expected to watch tonight. If the number goes much higher, it could threaten the all-time record for any American television broadcast: 114 million for the 2015 Super Bowl.
But debate numbers should be contextualized by the potential audience. The voting-age population (VAP) this year is around 250 million. So if 100 million watch the debate, that will fall well short of the 51 percent of the voting-age population that watched in 1980. And both figures are dwarfed by the 60 percent who tuned in to that first televised Kennedy-Nixon debate in 1960.
Now, if tonight's debate was not going head-to-head with Monday Night Football, then maybe we'd see percentages like those in 1980. But the 1960 debate viewership will be very tough to beat.