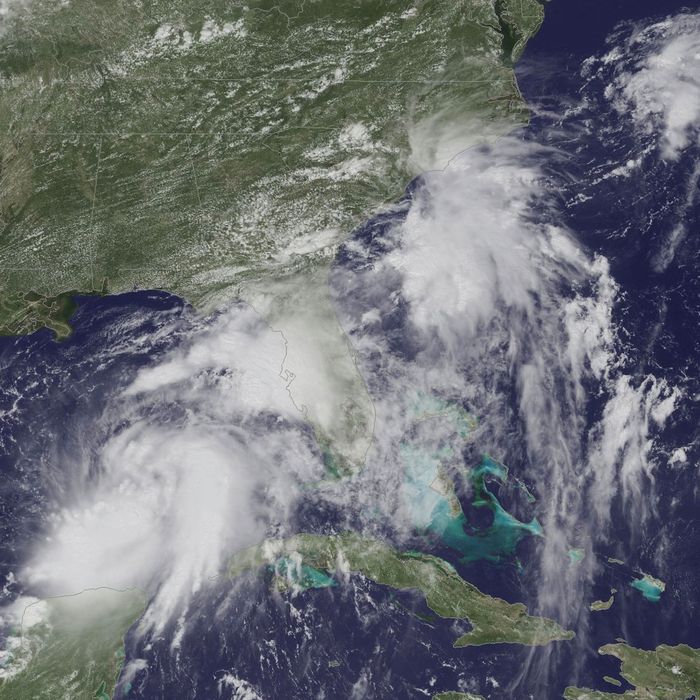 Tropical Storm Hermine
Photo: NOAA
Tropical Storm Hermine is barreling toward Florida's Panhandle. The storm is intensifying as it approaches the coast, and forecasters predict it will strengthen into a category 1 hurricane by the time it makes landfall — probably very late Thursday or early Friday morning. It would be the first hurricane to hit Florida head-on in more than a decade.
Tropical Storm Hermine is packing sustained winds of about 65 miles per hour. Even if it doesn't officially graduate to hurricane status — the cutoff is 74-mile-per-hour winds — those living along the coastline are bracing for fierce winds, torrential rains, and dangerous storm surges that could reach up to nine feet. Coastal flooding and downpours that will dump 5 to 10 to maybe even 20 inches of rain in some spots could inundate residents in the storm's path. Floridians must also prepare for the threat of isolated tornadoes.
Governor Rick Scott has declared a state of emergency in 51 counties, which includes big cities like Tallahassee, Tampa, and Orlando. The hurricane and tropical-storm warnings and watches along Florida's northwest coast extend across the state and include southern Alabama and the coasts of Georgia and the Carolinas.
Hermine will weaken once it touches down in Florida, but not before it ruins Labor Day weekend for most of the East Coast. Georgia and the Carolinas will get drenched with up to seven inches of rain. The storm's predicted path will send it spinning up the eastern seaboard as far as New England. Hermine should start soaking the New York area Sunday and will churn up dangerous rip currents before it officially arrives.
Two other major storms are threatening the United States: rare twin tropical cyclones near Hawaii. Tropical Storm Madeline, which was downgraded from a hurricane, is skating south of the Big Island. Heavy rains and rough surf battered the island, but it was a "glancing blow" to what it could have been, the Weather Channel's Kevin Roth told NBC News.
But another system — Hurricane Lester — is trailing right behind. Lester is a monster storm, packing winds of up to 120 miles per hour. But forecasters expect to downgrade it to a tropical storm by the time it gets close to Hawaii — it's still about 900 miles away from the islands. Right now it looks as if Lester will also avoid landfall and veer north of the archipelago.
But consider all of this weather activity a possible preview for the rest of fall: Hurricane season is just hitting its peak, and it's already slightly ahead of schedule. Hermine is the eighth named Atlantic storm that, according to the Washington Post, is visiting about three weeks earlier than the average H storm. Start by blaming Alex, a hurricane that came in freaking January — the first in 80 years.