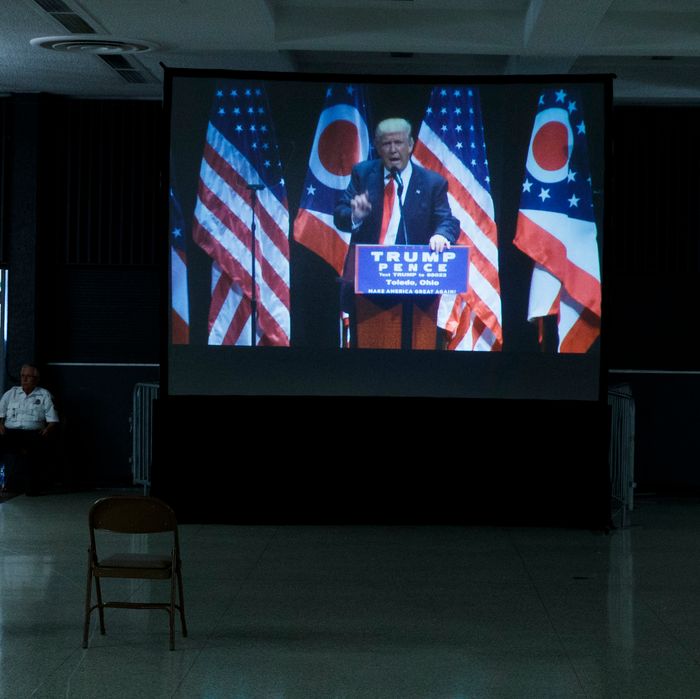 Maybe the Trump Foundation will chip in some cash.
Photo: Evan Vucci/AP
The Trump campaign is planning to buy $140 million in political ads between now and Election Day, according to the Associated Press, with $100 million dedicated to television ads, and the rest going to digital ads. The only problem, it seems, is that, as of September 1, the campaign only had $50 million on hand; though, aides insist that the campaign has experienced a "surge" of online fundraising since then. Campaign communications advisor Jason Miller says that they made a $15 million ad buy on Friday, but the AP notes that "media buyers and services such as Kantar Media didn't immediately see evidence of that." Trump has also been regularly boasting about how much less his campaign has spent than Hillary Clinton's campaign over the past few weeks.

In other words, while Trump himself brags about how little money he is spending on the campaign, his campaign wants to let everyone know they want to buy more ads than Clinton from now on, only it's not clear if they are actually doing that yet, or how they are going to pay for their plan.
So far, according to Kantar Media's political-advertising tracker, the Trump campaign has only spent $22 million on TV and radio ads for the general election, compared to the Clinton campaign's $124 million. If the Trump campaign actually makes the full buy, it would amount to $16.7 million a week between now and Election Day. The Clinton campaign, per the AP, currently has ad spending of $11 million per week lined up through Election Day, though, they can add to that if they want. As the Washington Post reported this week, based on what the Trump campaign spent in August, it's still a very lean, largely un-campaign-like operation.
The campaign says their big ad buy will target 13 (actual) battleground states, and some $40 million would be for national TV ads, which would focus on campaign themes like the economy and "law and order."
It's not clear if Trump will dip into his personal finances to help pay for the ad buy, nor is it clear what Trump's personal finances actually are since he is the first major-party presidential nominee in nine elections who has not released his tax returns.