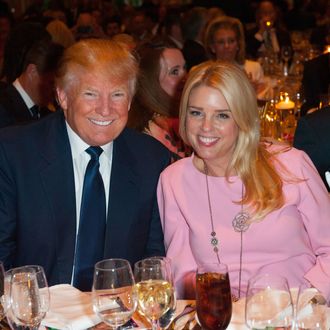 With friends like these …
Photo: Michele Eve Sandberg/Corbis via Getty Images
During the primary debates, Donald Trump repeatedly boasted that he knows how to get politicians to do his bidding, explaining that he donated to both Republicans and Democrats, just in case he needed a favor. "You know what? When I need something from them, two years later, three years later, I call them, and they are there for me," he said. "And that's a broken system."

Yet, now that Trump is facing questions about whether his improper $25,000 donation to a group connected to Florida attorney general Pam Bondi prompted her to drop a potential fraud investigation against Trump University, he's suggesting that he wasn't actually very good at working the system — contradicting Bondi herself.

In June, Bondi's spokesperson, Marc Reichelderfer, told the Associated Press that she personally asked Trump for a donation to her reelection effort "several weeks" before her office said it was considering opening a fraud investigation into Trump University. "The process took at least several weeks, from the time they spoke to the time they received the contribution," Reichelderfer said. After the pro-Bondi group, And Justice for All, received a check from the Donald J. Trump Foundation, her office said it would not sue Trump. (Trump paid the IRS a $2,500 penalty this year for violating laws that prohibit charities from making political donations, and failing to properly disclose the donation.)

However, when asked on Monday about accusations of "pay for play," Trump repeatedly denied that he talked to Bondi. "I never spoke to her, first of all. She's a fine person, beyond reproach. I never even spoke to her about it at all. She's a fine person. Never spoken to her about it, never," Trump said. "Many of the attorney generals turned that case down because I'll win that case in court. Many turned that down. I never spoke to her."
As the Washington Post notes, it's unclear whether Trump meant he never discussed the donation or the case against Trump University. When asked what he was hoping to get out of giving money to the Florida attorney general, he said:
I've just known Pam Bondi for years. I have a lot of respect for her. Never spoke to her about that at all. And just have a lot of respect for her as a person. And she has done an amazing job as the attorney general of Florida. She is very popular.
If Trump were as good at influencing politicians as he claims, he would have made Bondi promise not to contradict his explanation when his $25,000 gift turned into a scandal.