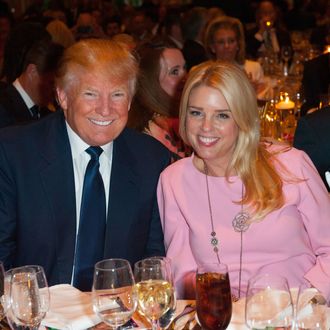 Trump and Bondi in March 2016, discussing only FEC-approved topics.
Photo: Michele Eve Sandberg/Corbis via Getty Images
Somehow, repeatedly bragging about his ability to buy off politicians is backfiring for Donald Trump. And, in another surprising twist, making a vague remark about whether he ever talked with Florida attorney general Pam Bondi about his improper $25,000 donation — which arrived as her office opted not to join a fraud investigation into Trump University — failed to put the controversy to rest.

Trump is facing new questions about his 2013 donation to And Justice for All, a super-pac supporting Bondi's reelection, after the Washington Post reported last week that he paid a $2,500 fine to the IRS for making the donation from the Donald J. Trump Foundation. Trump had to reimburse the foundation from his personal account, as it's illegal for charities to make political donations. The donation was also reported incorrectly to the IRS, which the Trump team claims was a clerical error.

Both Trump and Bondi strongly deny that the donation, which came days after her office said it was "currently reviewing the allegations" against Trump University, had anything to do with the decision not to open an investigation like the one that's still pending in New York. But Trump appeared to contradict Bondi on Monday. While her spokesperson admitted she personally asked Trump for a donation to her reelection campaign, Trump told reporters, "I never even spoke to her about it at all. She's a fine person. Never spoken to her about it, never."
That only added fuel to the controversy, as it was unclear what "it" referred to. Asked for clarification, Trump campaign spokesperson Hope Hicks told Politico on Tuesday, "His comments were in reference to any discussion about Trump University — not the donation."
However, the Trump campaign could not elaborate on when the IRS fine was paid, when Trump and Bondi spoke, or what they talked about. "I don't think this was a lengthy, memorable call," Hicks told the AP. "Mr. Trump talks to a hundred people in any given day. So, I don't know if I will be able to provide that information. That's not exactly a realistic or reasonable request."
Meanwhile, Bondi suggested that the Clinton campaign is behind the scandal, though she's faced pay-to-play allegations in local media since the contribution was first reported in October 2013. "I will not be collateral damage in a presidential campaign, nor will I be a woman bullied by Hillary Clinton," she said on Fox Business Network. "Hillary Clinton will not bully me."
Clinton has jumped on the controversy, saying it raises "serious questions," but that's not the only reason that the story probably isn't going away anytime soon. Citizens for Responsibility and Ethics in Washington, a liberal watchdog group, said it will file an IRS complaint against Trump's foundation on Wednesday, alleging that the candidate also broke a rule prohibiting "self-dealing," which involves the head of a nonprofit using the charity's money to benefit themselves.
The Huffington Post reported that in addition to the $25,000 contribution, the $500 Donald Trump and his daughter Ivanka each donated to Bondi's campaign, and the $125,000 they gave to the Republican Party of Florida, Trump also hosted a fundraiser for Bondi in March 2014 at Mar-a-Lago, his resort in Palm Beach. The state party paid just under $5,000 for the use of the resort, while Trump has been known to charge his own campaign $140,000 for an event at the mansion.

And the New York Times took the opportunity to look back at Trump's long history of bending the rules on political donations and lobbying:

In the 1980s, Mr. Trump was compelled to testify under oath before New York State officials after he directed tens of thousands of dollars to the president of the New York City Council through myriad subsidiary companies to evade contribution limits. In the 1990s, the Federal Election Commission fined Mr. Trump for exceeding the annual limit on campaign contributions by $47,050, the largest violation in a single year. And in 2000, the New York State lobbying commission imposed a $250,000 fine for Mr. Trump's failing to disclose the full extent of his lobbying of state legislators.
Presumably the topic of Trump's unparalleled skill at influencing politicians will be migrating from his speeches to the list of things he just won't talk about.