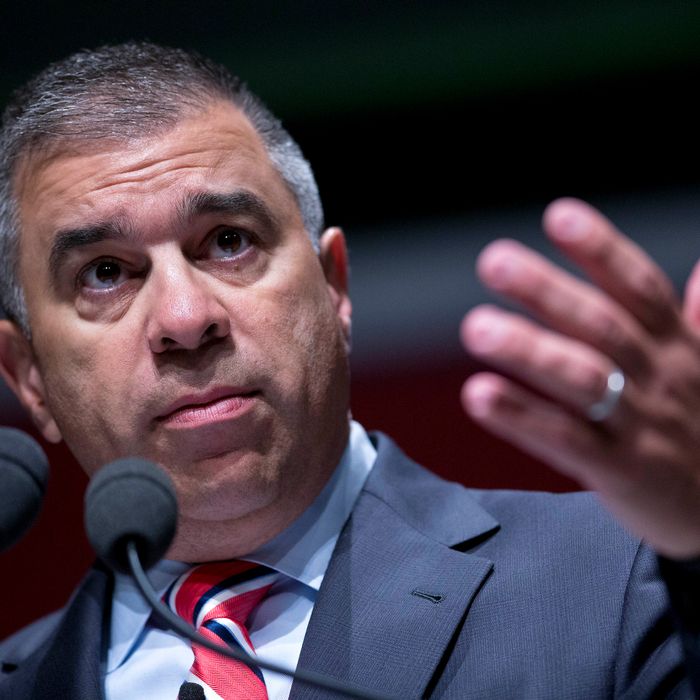 He's Bossie.
Photo: Andrew Harrer/Bloomberg via Getty Images
Donald Trump announced Thursday that David Bossie — the sitting president of conservative advocacy group Citizens United and head of the super-pac "Defeat Crooked Hillary" — will join his campaign as its new deputy manager.
His selection should send a chill through the Clinton camp. Bossie has been something of a fixture in Washington since Bill Clinton's first term, when he gained notoriety as a dogged staffer on the Senate's special committee on the Whitewater scandal, and then as a chief investigator for the House's Government Reform and Oversight Committee — a position he lost in 1998 because of his overzealous practices.
Bossie has literally made it his life's work to go after the Clintons. In the '90s the New York Times was already calling him a "dogged anti-Clinton sleuth."
When Hillary complained of a "vast right-wing conspiracy" against her and her husband, Bossie may have been whom she had in mind.
Bossie is well known in hard-line right-wing circles, and is a close acquaintance of Trump's new campaign chief — and former Breitbart News head — Stephen Bannon, as well as Trump's debate adviser, the firebrand talk-radio host Laura Ingraham. And as president of Citizens United — he'll be taking a leave of absence to work on the campaign — he has played an active role in the legal wrangling over Hillary's emails.
Before the hire, Bossie was already something of a presence behind the scenes on the Trump campaign. He reportedly advised Trump prior to his decision to make a serious go for the White House, and was instrumental in helping the Donald with his early campaign hires — it was Bossie who introduced Trump to his notorious first campaign manager Corey Lewandowski.
Now Bossie will be right in his element. According to the Washington Post, his new responsibilities — along with overseeing day-to-day campaign operations — will include "crafting attacks against Democratic presidential nominee Hillary Clinton" and "mining past controversies involving her and former president Bill Clinton."
The Clinton camp was quick to respond to the hire, releasing a statement from campaign chair John Podesta: "David Bossie is so craven and maniacal that in the heyday of the overreaching Gingrich-era Congress, the top Whitewater conspiracy theorist in the House had to fire him for doctoring evidence … This is the latest sign that Donald Trump has put the most extreme elements of the right-wing fringe in the driver's seat of his campaign."