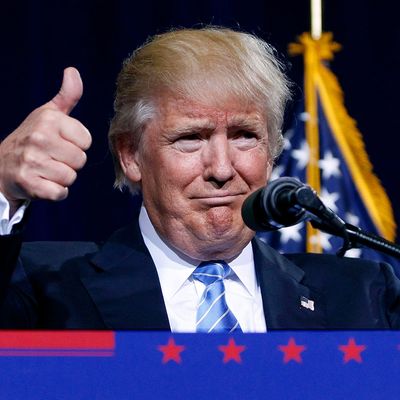 Trump rates himself.
Photo: Ralph Freso/Getty Images
Donald Trump has not lost his capacity to surprise. When the candidate took the stage in Phoenix last night for a hotly-anticipated policy speech on immigration, most everybody expected him to soften his views, or announce a policy-shift away from the divisive, hardline stances that have defined his campaign so far.
It was not to be.
Gone was the comparatively mellow, conciliatory Trump of his Mexico City meeting just hours earlier. Instead Trump was in many ways his old self again, harping on the danger posed by illegal immigrants, promising to build a wall and make Mexico pay for it — after failing to "discuss" the issue with Mexican President Peña Nieto, who said that he told Trump during their meeting that he wouldn't pay for the wall — and threatening to triple the amount of deportation officers at the department of Immigration and Customs Enforcement.

Somehow he even got Rudy Giuliani and Jeff Sessions to wear hats that said "Make Mexico Great Again Also" — that seriously happened.
Earlier in the day, Trump assured Peña Nieto that they could save the discussion of who would pay for the border-wall "for a later date," but he took a much less diplomatic stance in Phoenix, saying "Mexico will pay for the wall, believe me — 100 percent — they don't know it yet, but they will pay for the wall."
Whether he wants to make Mexico great again or not, he still gleefully talked about deportation: "You can call it whatever the hell you want," he said to cheers, "they're gone."
After a brief flirtation with emphasizing the threat immigration supposedly poses to the American economy, Trump returned his focus to the physical danger he claims illegal immigrants pose to Americans. At one point he even invited the parents of people killed by illegal immigrants up onto the stage and asked them to describe how their children died.
He also went further than ever before in saying that any undocumented worker "arrested for any crime whatsoever" would be immediately deported — never mind a trial! And, on Hillary: "Maybe they'll be able to deport her."
So far it does not seem that Trump's chaotic day of shape-shifting on immigration is having its intended effect. Just hours after he finished speaking in Arizona, Politico reported that several prominent Latino Trump surrogates were mulling pulling their support. A member of Trump's National Hispanic Advisory Council, Jacob Monty, has already tendered his resignation.