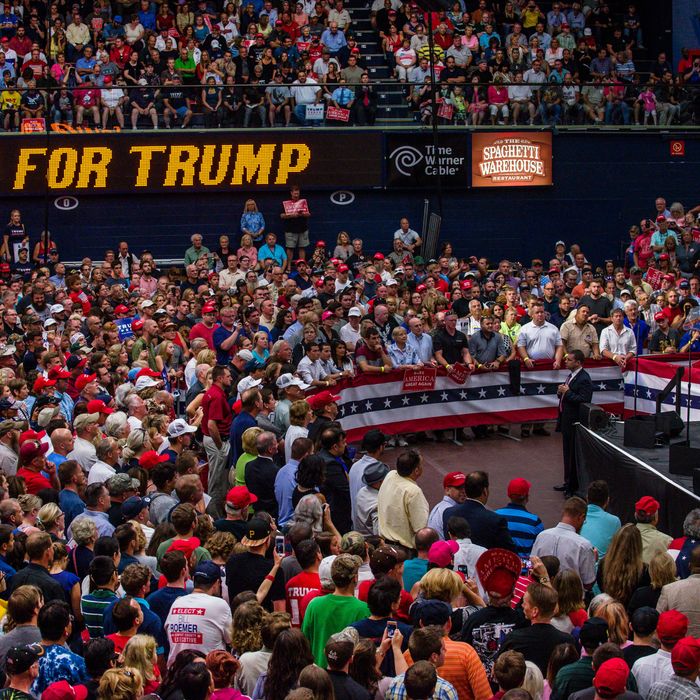 New polling data shows Trump beginning to build leads in Florida and Ohio.
Photo: Angelo Merendino/Getty Images
For liberals who think of Florida and Ohio as places where presidential dreams turn to nightmares, fresh poll offerings from CNN/ORC will bring back bad memories of 2000 and 2004.
A poll of likely voters in Florida shows Trump moving ahead of Clinton by a 47-44 margin, with Gary Johnson at 6 percent. Trump now has the lead in the RealClearPolitics averages for Florida, which Clinton has led since midwinter (in their one-on-one form earlier).
But it's some compound polling news from Ohio that will really cause some freaking out from Trump-haters who kept expecting HRC's lead to swell to 20 points or so any day now. Another CNN/ORC poll gave Trump a 46-41 lead among likely voters in the Buckeye State (with Johnson at 8 and Stein at 2). Additionally, a Bloomberg poll, conducted by the highly esteemed Ann Selzer, showed the self-same five-point Trump lead among Ohio likely voters.
All of these polls include some data from this weekend and will reinforce Democratic fears that reaction to Clinton's "basket of deplorables" comment or her illness (or her campaign's failure to disclose said illness) is giving Trump a broad-based "surge." We won't really know until more data comes in, and even if it's true, it is the sort of thing that might fade quickly — say, the next time Trump says something bizarre.
Beyond the fragility of the moment, given the way the battleground-state map has developed, carrying both Florida and Ohio does not necessarily guarantee Trump anything other than a good second-place finish and his picture on a dartboard among Republicans who believe any other candidate would have easily dispatched Clinton. Where he really needs to make a push is in Pennsylvania, where he has led in just 1 of the last 15 polls (most recently in early July), and is currently down by nearly six in the RealClearPolitics averages. If he takes a lead there, it really is time for liberals to panic — or to make burnt offerings each night on an altar dedicated to Clinton's get-out-the-vote operation.