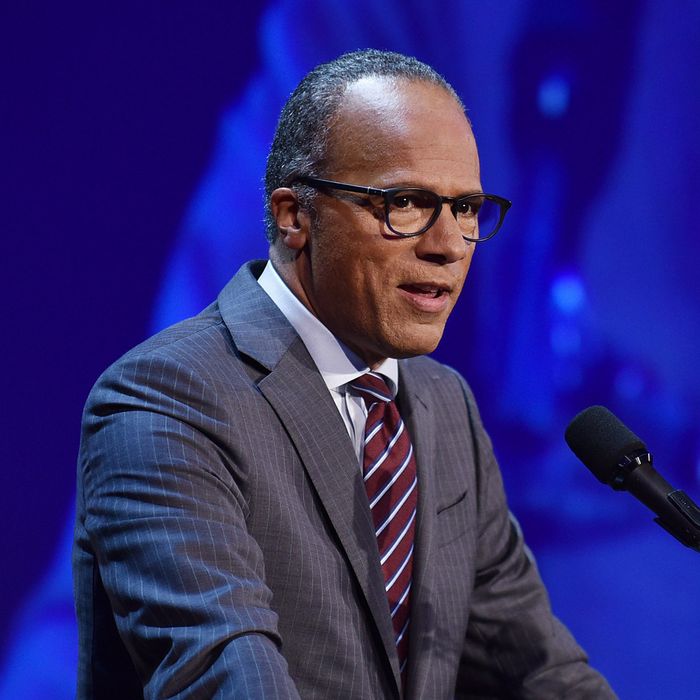 Lester Holt.
Photo: Bryan Bedder/Getty Images
In Donald Trump's opinion, if the moderator of a presidential debate belongs to the same political party as one of the candidates, it gives that party's candidate an unfair advantage.
"By the way, Lester is a Democrat," Trump said of NBC's Lester Holt, who will moderate the first presidential debate, in an interview with Bill O'Reilly on Monday. "It's a phony system. They are all Democrats. It's a very unfair system."
But, as Time noted on Tuesday, Holt has actually been registered as a Republican in New York State since 2003.
The third debate's moderator, Fox News's Chris Wallace, is a registered Democrat. But Wallace explains his party affiliation as a product of pragmatism, not ideology — with local politics dominated by Democrats in D.C., to register as a Republican would prevent him from voting in decisive municipal primaries.
As a resident of the Empire State, Lester Holt has no such excuse. And no other debate moderator appears to have a registered party affiliation.
Thus, Trump will surely advise voters to take what they see at the first debate with a grain of salt — after all, the contest is clearly rigged against Hillary Clinton.