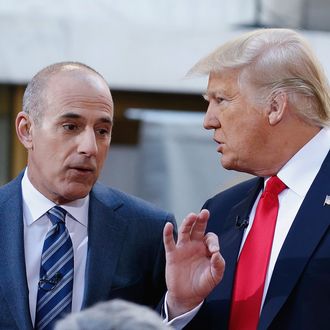 Photo: John Lamparski/WireImage
NBC News offed a preview of the presidential debates on Wednesday night — specifically, the part where Donald Trump lies and Twitter goes nuts because no one fact-checks him. Moderator Matt Lauer showed up to the Commander-in-Chief Forum thoroughly prepared on Hillary Clinton's email server, but he was caught off guard when Donald Trump claimed in his very first answer that he was "totally against the war in Iraq."

Trump has repeatedly claimed that he opposed the war in Iraq prior to the 2003 invasion, and he even said that the Bush White House tried to "silence" him because his opposition to the war was generating so many headlines. As the Washington Post explains, there is actually no record of Trump publicly opposing the invasion in 2003. In fact, when Howard Stern asked Trump "Are you for invading Iraq?" on September 11, 2002, Trump replied: "Yeah, I guess so. You know, I wish the first time it was done correctly."
Trump's obfuscation on the matter has been widely reported. Lauer took flak for failing to correct Trump when he claimed during an NBC Today town hall in April that he "was against the war in Iraq" and "was so strong against Iraq." On Wednesday night, NBC News made a note of Trump's shifting claims in a story previewing the Commander-in-Chief Forum:

[Trump]'s also exaggerated his early opposition to the Iraq War. Despite repeated claims that he opposed the war before the March 2003 invasion, he offered at least tepid support for the operation six months before the start of the war in an interview with shock jock Howard Stern. (By the following November, he was deriding the "very, very unpleasant surprises" in Iraq.)
And even if Lauer missed that story, Clinton offered a reminder in the first half of the forum. It stuck out, as Howard Stern isn't frequently name checked by presidential candidates:

My opponent was for the war in Iraq. He says he wasn't. You can go back and look at the record. He supported it. He told Howard Stern he supported it. So he supported it before it happened, he supported it as it was happening, and he is on record as supporting it after it happened. I have taken responsibility for my decision.
And here's NBC News's senior political editor pointing out Trump's lie during the forum:

Hopefully NBC Nightly News anchor Lester Holt, who's moderating the first debate on September 26, was taking notes.