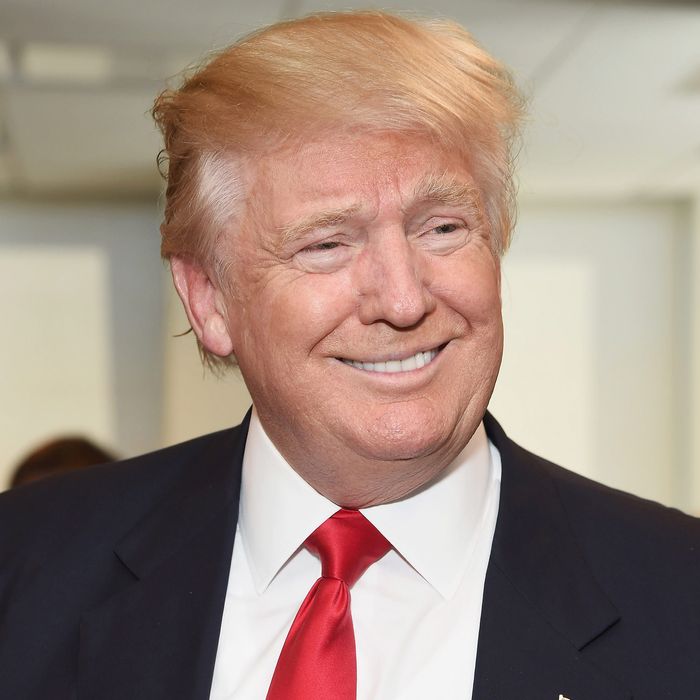 Philanthropist.
Photo: Gary Gershoff/Getty Images for Cantor Fitzgera
For nearly ten years, the Donald Trump Foundation has been funded almost exclusively by people who aren't named Donald Trump. Since 2007, the GOP nominee has used his personal charity as a scheme for rebranding other people's generosity as his own. In one instance, Trump solicited $150,000 from the Charles Evans Foundation, saying he was raising funds for the Palm Beach Police Foundation. What he didn't say was that he was raising funds solely from them: After slapping his name on the Evans Foundation's gift, Trump relayed it to the Florida police charity, which proceeded to honor him with an award for his "selfless support" at their gala — a gala that the Police Foundation paid to hold at Trump's Mar-a-Lago resort.
At other points, Trump used his foundation even less "selflessly," directing its money toward the purchase of a Tim Tebow–autographed Broncos helmet and six-foot-tall portrait of himself at a pair of charity auctions. Such purchases likely qualify as "self-dealing" — the use of charity money to benefit oneself. Which is illegal.
These testaments to Donald Trump's extraordinary chutzpah come courtesy of the Washington Post's David Fahrenthold, a leading candidate for Most Valuable Reporter of the 2016 cycle. And on Tuesday, Fahrenthold further burnished his standing in that race, revealing that Trump also used his foundation's funds to settle lawsuits against his company.
By 2007, Palm Beach, Florida, had hit Trump's Mar-a-Lago Club with $120,000 in fines over a dispute about the size of a flagpole. The town reached a settlement with Trump, agreeing to waive those fines if Mar-a-Lago made a $100,000 donation to a veterans' charity. But when that donation came due, Trump decided not to take the funds from his for-profit business, opting to use other people's charitable donations instead.
In a separate case, court papers obtained by the Post show that one of Trump's New York golf courses settled a lawsuit by agreeing to make a donation to the plaintiff's chosen charity — the Trump Foundation then sent a $158,000 check to that philanthropic organization, tax records show.
Fahrenthold's latest exposé also turned up a less expensive, but even more blatant, instance of self-dealing, when Trump used $5,000 from his foundation to purchase advertisements for his hotel chain. The reporter also found that, in 2014, Trump spent $10,000 of the foundation's money at a charity auction — to purchase another portrait of himself.
"I represent 700 nonprofits a year, and I've never encountered anything so brazen," Jeffrey Tenenbaum, who advises charities at Washington's Venable law, told the Post.
Trump used his charity to signal his concern for the greater good — and then exploited other people's faith in that concern to advance his own material interests.
Perhaps he will use his presidency for a similar purpose.